Fading Memories: Alzheimer's Caregiver Support – Jennifer Fink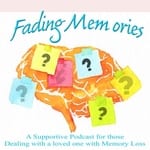 Sometimes a podcast doesn't fit into just one box aka podcast category, that's where General comes in. Jennifer is focused not necessarily on the medicine of Alzheimers, but the family and friends that are caregivers and more. Here's her take on being a podcaster.
Thanks to Jennifer for participating.
Tell us about yourself!

The basics…I feel like a normal, moderately interesting person who never expected to have a 'world voice'. I was a portrait photographer up until this year. I've always been the helper in my group, even as a kid, despite generally being the youngest. I am currently the human to three Golden Retrievers who can sometimes be heard on my episodes.
What inspired you to do your own podcast?

The inspiration for my podcast was simple. I went looking for a podcast for Alzheimer's caregivers and there was basically only one podcast out there. She [the host] has been around over a decade now but her podcast didn't speak to me. I am an avid podcast listener and when I listened to one about starting your own podcast, my fate was sealed. 
How do you prepare for an episode?

Other podcasters are going to hate this, but I don't do a lot of prep generally. Depending on the topic and the guest, I make talking points I want to touch on. My podcast is mostly conversational so I don't do a lot of questioning of the guest. Instead, we chat about the topic. The talking points are mostly to keep me from going off topic too much.
What advice do you have for someone just starting out?

Podcasting is a lot of fun and easy to do but it takes a long time generally to grow an audience. One mistake I made was not announcing the 'coming soon' on my podcast enough. That slowed things down but had I done that, I'd still be in growth mode as I near the end of year three. My advice, plan on doing a podcast as a hobby that can grow into a business. Also, get your audio as good as possible! It's not hard or expensive and I think it makes a huge difference. Record in a closet or create your own acoustic panels for a regular room, I've done both. I have four 4×3 foot panels with my own artwork as the covering material; working double time making my whole office a sound studio. All four were less than $350.
Has spending more time at home and distant from others changed anything about your podcast? Or even the content you're sharing, given that seniors and Alzheimer's patients in care facilities are, obviously, significantly affected by the pandemic?

The pandemic has not changed my podcast significantly, but it has changed some. Because I get downloads on each episode every month I try not to be too in-the-moment topical. As the pandemic dragged on, it became impossible to ignore. In May I reached out to some past guests to see how they were handling the complete upheaval of their loved ones' schedules. This is devastating for people living with cognitive impairment. Even those episodes are still being listened to. We'll see how long that lasts, but I bet it's many more months.
What are you looking forward to in your podcast in the future?

Well, it'd be nice if it finally paid its own costs. At the very least I'd like to have enough downloads every week to make it abundantly obvious that I help other caregivers. There are weeks that I think I should throw in the towel and other weeks that blow me away. I had planned to start speaking engagements this year, but obviously, things happened that prevented that. I hope to make that happen in 2021 as soon as possible; it may end up being a goal for 2022.
My end-goal is to become a voice of experience that can help guide other families through the difficult journey of Alzheimer's. I want to be known for my upbeat — dare I say fun — delivery of information that can be challenging. Many experts come with a medical or therapeutic background and while that's needed, we also need a voice from those of us who have been in the trenches. There are more of us out there, and just this month three new podcasts like mine have launched. If I admit to my "big dream," it would be to start a network that consists of a variety of podcasts, blogs, YouTube channels and links to specific authors. I'm just not sure how to even go about making that happen.
Connect with Jennifer Fink…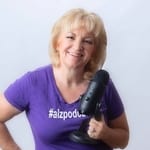 Thanks Jennifer for joining us this month. Look out for more of these corresponding to our monthly newsletter. If you'd like to suggest topics, feel free!