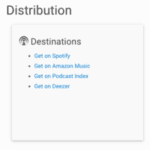 They're here! Blubrry users can now submit their podcast directly to the Amazon Music podcast directory and Podcast Index directory. The team at Amazon Music has been providing original podcast content for years now, but this is their first step into the directory arena. While new, we highly suggest that podcasters submit their show so they don't miss out on an important podcast directory for new listeners. The Podcast Index team is working hard to preserve podcasting as a free speech platform.
How do I submit?
Well, you've got to have a Blubrry account, (no you do not have to be using any of our paid services). When you're logged into Blubrry.com (make sure you've claimed your show first), head to the Podcaster Dashboard. From there head to the Destinations box and you'll find Amazon Music and Podcast Index, along with a few other options. Follow a few simple steps and you'll be on your way.
A few tips
If you've already submitted your podcast to Amazon Music, don't submit a second time.

You will receive notifications directly from Amazon about your submission. Amazon Music doesn't send us anything on acceptance/rejection.


Amazon submission

will most likely be accepted or rejected within 24 hours.


When submitting to Podcast Index

, add your RSS feed and you'll be on your way.

If you're unsure if you've already been submitted, no harm done in a second submission.

If you'd like to know more about our Destinations section, you can read an article we wrote about it here. Head to Destinations and get started now, it takes only a minute!