Know Your Dashboard is an ongoing series of in-depth looks at the features of your Blubrry Podcaster Dashboard.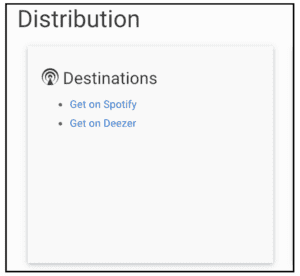 Having your show listed on as many different syndication platforms as possible is key to maximizing your show's reach. Under most circumstances, Blubrry advocates that you submit your show's podcast RSS feed directly to these different platforms. But in a couple cases, it may be necessary for Blubrry to submit for you. This is where the Destinations section of the Blubrry dashboard comes in.
The Destinations section can be found directly under the Distribution header and offers two links:
Get on Spotify:

Blubrry media hosting customers can

submit shows directly to Spotify

through this link. Copy/paste the show's podcast RSS feed URL into the Podcast Feed URL field and click the Next button. Blubrry will do a quick check of the feed to make sure it's working. On the next page, you'll need to acknowledge a couple of checkboxes to complete the submission. Check your Blubrry dashboard within 24 hours to see if your show submission was approved.

Get on Deezer:

Anyone who has a free

show listing on the Blubrry directory

can submit to Deezer; Blubrry media hosting is not required. Make sure the information inside the Podcast Feed URL and Title fields are correct and click the Next button. Confirm all of the acknowledgements on the next screen to complete your submission to Deezer. Return to your Blubrry dashboard within 24 hours to check the status of the submission.
Want to get your podcast listed on even more syndication platforms? Check out this list of places where you can submit your show directly. If you have any questions about submitting to any of these platforms, drop a line to Blubrry support.