Podcast: Play in new window | Download (Duration: 1:00:23 — 82.9MB) | Embed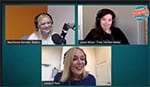 Last week Blubrry was lucky enough to have two sessions for International Podcast Day, one of which was hosted by MacKenzie Bennett, Powerful Women in Podcasting. She was joined by two guests, Candy O'Terry and Laura Wiese, both heavily involved in different aspects of podcasting.
Check out the news update from Mike at the beginning of the episode and then replay of the IPD session. And we recently started out Instagram account, Blubrry_Podcasting. Go ahead and follow us for podcast tips, education on our services, info on events and more.
Thanks for joining us in this episode of Podcast Insider. Looking to be a guest on the show? Let us know.
News:
Blubrry News:
Interview:
Replay from International Podcast Day 2020
Powerful Women in Podcasting with MacKenzie Bennett, Candy O'Terry and Laura Wiese
Blubrry podcasters, let us interview you for the show! Tell your story of podcasting right here on Podcast Insider. Email Todd@blubrry.com, Mike@blubrry.com or MacKenzie@blubrry.com.
Connect with Laura Wiese…
Connect with Candy O'Terry…
Promo code INSIDER for a free month at Blubrry.com
Coming at you this week from the Blubrry North studios in Michigan. Produced by the Blubrry Pro-Production team.
Schedule a one-on-one with Todd (hosting customers only) Email todd@blubrry.com
Schedule a tech checkup with Mike (hosting customers only) Email mike@blubrry.com
Send us your podcast sticker and a self-address stamped envelope (SASE) and we will send you a Blubrry care package.
Our mailing address is:
Blubrry – MacKenzie
150 E. Campus View Blvd. #180
Columbus, Ohio 43235