There are times in our lives when offering short, clear directions have the best results. For example, "Don't Walk", "No Swimming", and "Dry Clean Only", saves lives and laundry. Starting a new podcast also might be one of these times.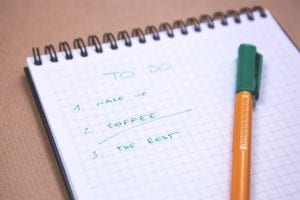 So, below are 10 clear directions that all new podcasters should hear after releasing their first episode.
Tell all your friends about your show.
Work on your website.
Learn podcasting best practices.
Listen to your own show.
Plan for your next episode.
Appear on other podcasts.
Use social media.
Engage with your listeners.
Invest your time and your money in your podcast.
Do not spend all your time watching your download stats.
Are 10 things too much for you to remember? When you read something memorable you also notice compelling themes buried inside the great literature. Inside the list above you will find three themes that should inspire your behaviors after you have released your first podcast episode.
Theme #3: Focus on the right things. Do what you can to make your next episode better. Invest your time and money toward making your next show the best so far. Learn more about your topic or about the craft of podcasting. Don't obsess over individual show stats, spend that time assessing the strengths of your previous episodes and planning for your future.
Theme #2: Your podcast is more than just your audio show. Use everything at your fingertips to make people aware of your new podcast and increase their engagement with you. Have a social media outlet so you can talk to your listeners and they can talk to each other. Have a website where listeners can learn more about you and the podcast. And whatever platform you create beyond your audio podcast, make sure to update it consistently so people will keep coming back.
Theme #1: Promote yourself. Ask your in-person friends and online acquaintances to listen to your podcast. Ask them to share your show with their friends. Be bold and appear on other podcasts that you listen to or are similar to yours. Have a booth or table at meetings and conferences to discuss your topic and meet potential listeners face to face. The old adage is that you are your harshest critic, but you can also be your strongest champion.
Are three themes too much for you to remember? Think back to your first job. Often where you worked had a motto or mission statement intended to inspire you to do great things. Here is a single motto that will help you grow beyond your first episode. It is simple. Produce content that you can be proud of and be proud of what you are doing. If that is your motivation, you can do no wrong. Go forth and do great things.
Do you feel inspired? What has this advice inspired you to do? Join the 'Blubrry Podcasting Group' on Facebook and share your recent actions with like-minded, inspired podcasters such as yourself. You may inspire others.