Intimacy at virtual Outlier Podcast Festival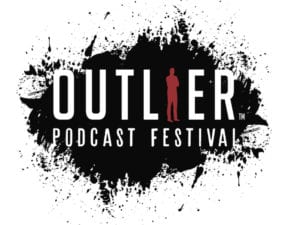 Improv comedy is built upon 'Yes, and…' thinking. That is the kind of thinking that Ever Gonzalez and Arielle Nissenblatt must have employed when they decided not to hold an in-person Outlier Podcast Festival this month. That conversation might have gone something like this:
"So, Let's cancel it…"
"Yes, and…"
"We could offer an online only virtual summit?"
"Yes, and…"
"We could offer the same quality and diversity of speakers and presentations?"
"Yes, and…"
"We could offer a 'pay-what-you-can' registration fee?"
"Yes, and…"
"We could offer contests and prizes for people participating live?"
"Yes, and…"
"We could record the presentations and make them available afterward?"
"Yes, and… and… and…"
Of course, the Outlier Podcast Festival was fantastic. Each presenter "brought the fire" (a term used frequently throughout the event).
Those participating live were privy to something that cannot be fully captured in those recordings. Even though this was a virtual summit, attendees shared a sense of connection and companionship that rivaled and potentially exceeded what they would have experienced at an in-person event. The co-organizers, Ever and Arielle, were a supportive presence in the background during the formal presentations and engaging hosts between sessions. The chat-box was a continual source of thoughtful questioning, constant encouragement and hilarity. Frequently, people chatted that the virtual format heightened the intimacy of what was happening for attendees. People often mentioned that it felt like they were having a one-on-one experience with every presenter – try replicating that at an in-person event!
A great example of these value-added experiences began near the end of the first day. Adam Lewis Walker was set to present "How to Get a TEDx From Your Podcast to Increase Impact," but had a last-minute internet issue. Before he was able to connect, Arielle's banter kept attendees engaged. When Adam joined, the chatroom was full of encouragement. To accommodate for the late start, Adam made a streamlined presentation not even using his prepared slides. 
The next morning, the first presenter was Blubrry's Todd Cochrane. During Todd's presentation he casually mentioned that he was considering speaking at a TEDx event because of Adam's insightful presentation the night before. 
(Note: Todd continued to share interesting tidbits. He mentioned that he, the CEO of Blubrry / RawVoice Inc., also offers individual consulting. You may consider his consulting and Blubrry's Pro Production Services to learn podcasting the Blubrry way.)
The level of continuity spanned across all the three days of the Outliers Podcast Festival Virtual Summit. The collegiality among the presenters, furthered by the intimacy factor of the event, offered a mind-blowing experience. You can see the full schedule and list of speakers at the Outlier website and can still pay what you can and buy the recordings. Further, you should consider attending the next Outlier Podcast Festival, whether in person or virtual.