Podcast: Play in new window | Download (Duration: 54:17 — 49.7MB) | Embed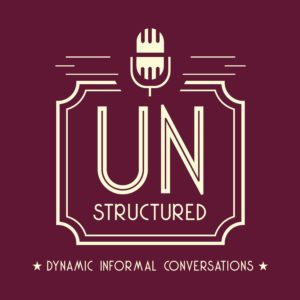 Our guest today is Eric Hunley (@hunleyeric) of Unstructured, whose authentic, well researched interviews deliver more insight and understanding than structured shows allow. Hunley cuts to the quick in his interviews to explore why his guests dared to go on their life changing journeys — and today we'll learn more about his.
Mike is mostly flying solo, as Lena and MacKenzie are attending She Podcasts Live in Atlanta.
We talk about WNYC's new podcast called Dolly Parton's America, Podchaser's 3 million credits, and its claim that it's the "IMDB of podcasting." Also on today's episode with-mostly-Mike, we talk about the release of PowerPress 8 and what it means for you; and our new full-time support person. Help us welcome Dave!
If you would like to be interviewed on Podcast Insider about your podcast, contact Mike, MacKenzie or Todd (our emails are below) to get on our schedule. We have some very good ones coming up as well as today's great interview.
News:
Best Practice:   Subscribe to your own show!
Blubrry news:
PowerPress 8.0 is out
MacKenzie and Lena at She Podcasts Live! In Atlanta.
New Full-time support person!   (Dave Clements)
Support:
Meet Dave!
Expanded hours on the phone support coming soon
Write down info about your podcast! (We talked about this last week.)

Feed address
How do you generate a feed?
Email address used to login to Blubrry (or another service)
Web hosting company
ALL PASSWORDS
TITLE of the show
Promo code INSIDER for a free month at Blubrry.com
Contact Us:
todd@blubrry.com
mike@blubrry.com
mackenzie@blubrry.com