Podcast: Play in new window | Download (Duration: 1:00:38 — 55.5MB) | Embed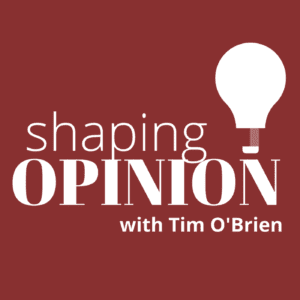 Blubrry has lots of announcements and tips for podcast support this time around on Podcast Insider. Tim O'Brien from The Shaping Opinion podcast joins Todd to talk about his show.We're excited for our Audioburst webinar next week and reviewing submissions our International Podcast Day giveaway. We'll be speaking at that event on Sept 30 and Todd will be headed out to Texas Podcon in October. MacKenzie will also be headed to Atlanta for She Podcasts in about a month, catch her speaking on the Creative Money panel.
Thanks for joining us on this episode of Podcast Insider.
Interview:
Tim O'Brien from The Shaping Opinion Podcast
News:
The popular podcast app, Pocket Casts is now free
1 billion downloads: NYT's The Daily has hit a billion downloads, averaging about 2 million per episode
Short-lived Podcoin has officially shut down: Last day is Sept 24
Apple iOS 13 is out as of today, 9-19-19. Look for changes concerning the Apple Podcasts app.
Best Practices:
Stats: What number is the most important to track?
Blubrry News:
Support:
Show notes tips: Trying to force different apps to display different versions of your show notes is going to drive you crazy. If one app is not looking like you want it to, and all the rest are, the problem is with THAT app, not your feed. Don't give them a choice. Put whatever you want to show everywhere in the post. RSS is a standard; apps and directories can pick and choose what parts of the RSS feed they will use and what parts they won't. You do not get to control that and neither do we.
Patience: If you email support at 3AM ET, please do not email again at 6AM wondering why we haven't answered you. Or worse yet, get on social media. We will get to you within 24 hours during the business week and likely the same on the weekends.
Coming at you this week from the Convo By Design studio in Columbus, Ohio and Mike Dell's World Studio in northern Michigan.
Promo code INSIDER for a free month at Blubrry.com
Contact Us:
todd@blubrry.com
mike@blubrry.com
mackenzie@blubrry.com