Blubrry Podcast Stats are Certified IAB Compliant
Ok. We can't keep it a secret a second longer, so pardon our excitement while we nerd out for a sec. We've been hinting at it, and there's been buzz about it. But we are pleased to finally–and officially–announce that Blubrry has become the first ever podcast hosting company to receive Interactive Advertising Bureau Tech Lab (IAB) Podcast Measurement Certification. Our podcast statistics are now officially certified to the highest set of industry standards. We're officially official.
Fireworks! Horns! Party hats!
Why IAB Certification Matters
Ok. Seriously, though. Podcasting has come a long way since 2005 when we started providing podcasting statistics, and Blubrry continues to thrive and lead. "This is the gold standard. There are no substitutes or shortcuts to certification of compliance," said Todd Cochrane, Blubrry CEO. "Ad buyers, networks, podcast hosting platforms, and podcasters now have an audited, certified platform ready to serve them."
The IAB Tech Lab certification is important because it gives podcast hosting companies, media buyers, and podcasters the confidence that the numbers they're seeing are accurate to the highest level in the industry. Meaning they can make more informed decisions about advertising & monetization.
The Road to Podcast Stats Being IAB Certified
We were one of several organizations who took part in the auditing and certification process. It was extensive. It was exhaustive. It was independent. And it was based on the standards within the IAB's Podcast Measurement Guidelines. Plus, we're in good company: National Public Radio (NPR) was the only other organization certified as of this posting.
As part of IAB's Podcast Technical Working Group, Blubrry and 31 other podcast and traditional media companies contributed to the Podcast Measurement Guidelines, released in December 2017, that provide strict rules and guidelines as the basis of certification, including downloads, listens, advertising delivery and advertisement play.
Podcast Stats that are IAB Certified and Platform Agnostic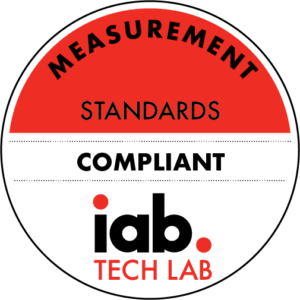 As of today, Blubrry Enterprise customers can label their podcast statistics as Certified IAB Compliant. Blubrry Hosting customers and those shows using the Blubrry redirect with other platforms will quickly follow as outlined in this blog post. Blubrry customers should expect no changes to their metrics as the certified platform system has been in place since 2013. Yeah. You read that right. Since 2013. Even when we weren't certified, we still built a solid podcast stats platform you trust to accurately portray your audience and their consumption of your content.  
What's more, and unlike other providers, Blubrry podcast statistics are platform agnostic. Which means our podcast stats services aren't limited just to Blubrry hosting customers. Although, more than 50,000 podcasters have trusted Blubrry podcast stats for the past decade plus– whether they host their podcast with us or not.
What did the process cover? A ton. Blubrry CIO, Angelo Mandato said "The audit included reviews of our platform architecture, filtering, file threshold levels, identity, aggregate uniques, metrics generation, website player reviews and recommendations, disclosures and external audit of the code line by line."
Thanks, as always, for your trust in and support of Blubrry. We're in this because we love podcasting, and we want podcasters to have the best tools available to grow your audience. Keep up the hard work (we will too!).