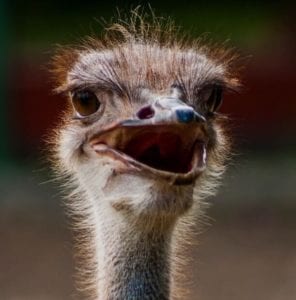 This ostrich is ready for her closeup. Are you? Think about Video Podcasting, then. As podcasting continues to grow–in terms of audience size and podcast producers–there will inevitably be bright shiny new things that come along. Podcasting even started out being called "audioblogging" back in the day. But when portable MP3 players, most notably the iPod, came along, the term Podcasting took hold. And now, with ubiquitous video platforms like YouTube, video podcasting has become increasingly popular. But should your podcast be audio-only? Video-only? Both? Read on for some thoughts and tips.
Benefits of Audio Podcast
Easy to consume: commute time, doing housework, sitting sipping your favorite beverage.

Supported by all the major podcast discovery platforms

It's the status quo: people are used to it

Relatively low production cost: for a couple hundred bucks and a computer–or, even just with your smartphone–you can be up and running without having to shell out big bucks for video gear.

Smaller file size means less media hosting costs. Of course, we think you ought to check out our

Podcast Media Hosting

because it's flexible, has no-fault overage for when you might accidentally go over your limit in any given month, and complimentary support from real live humans that you can call or video conference with. Yeah. Real humans.
Benefits of Video Podcasting
We're a visual species.

University of Rochester researchers

note that "more than 50 percent of the cortex, the surface of the brain, is devoted to processing visual information," and, according to

Discover Magazine

, only 3 percent of neurons are devoted to hearing. So. Give your audience something their body is built for: visuals.

If anybody tells you you've got a face for radio, tell them to get their eyes checked. You're awesome and ready for your close up.

Communicate more effectively:

55% of communication is nonverbal

, how you look or what you're doing when you say something carries more weight than tone of voice and the actual words you use. Some concepts are easier to communicate via video, too.

Continually decreasing production costs. It used to be fairly expensive to create quality video content. But the camera on your smartphone is ridiculously good now. Plus, there are a plethora of excellent video editing programs for both Android and iOS devices.

Great for the hearing impaired. This one is pretty self explanatory.
Why Creating a Video Podcast and Audio Podcast Might Be Right for You
You're already doing most of the work towards creating a video podcast every time you create your audio podcast: planning, podcast show notes, recording great audio, etc. If you get even a simple smartphone mini tripod for as little as $10, point it at your face (and your guests, if you have them), you're in the video podcasting business). There are also variety of video conferencing platforms that allow you to record the video for when your guests may not be in the same location as you.
What's more, any time you can give your audience and potential audience more ways to discover and consume the amazing content you're producing, you're helping grow your audience.