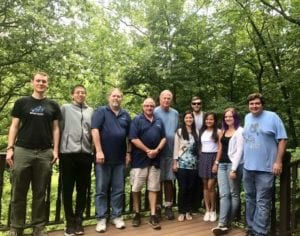 On July 14, 2017, Blubrry/Rawvoice brought together ten crucial staff members for the team's largest and most comprehensive meeting to date.
Todd Cochrane, CEO; Angelo Mandato, CIO; Barry Kantz, Finance and Legal Director, Brian Yunke, Creative Director; Winnie Verzosa, Programmer; Mike Dell, Lead Support Technician; MacKenzie Bennett, Services and Affiliates Coordinator; Lena Taupier, Programmer; and interns/programmers Thomas Matlak and George Chen were present at the meeting, which was held at a lodge in the Columbus area.
"It was nice that we were able to spread out, enjoy some comfortable furniture, and eat while we discussed how we are working as a team and what we can improve," says Services and Affiliates Coordinator MacKenzie Bennett. "We talked about our current services, what we'd like to change, things we'd like to create in the future, and some overall company policies."
With over 50% of Blubrry's team working remotely, regular in-person get-togethers are a necessity. "We strive to be a nimble and forward-thinking company, and allowing employees to work remotely wherever they happen to live allows us to find and hire the best talent across the country rather than being tied to any one geographical area," says Todd Cochrane, CEO of Rawvoice/Blubrry.
Employing a mostly-remote staff also keeps overhead costs down, which allows the company to innovate more quickly and invest in things that improve the customer experience, like world-class tech support. By planning regular in-person meetings on top of the team's regular communication via email and Slack, the team has a chance to take a broader view of the company's progress, discuss big ideas, and meet challenges head-on. 
"Our team dynamic is, be open to change," explains Bennett. "As a result of this meeting, we now have a plan for some new ideas we will be implementing soon that will continue to improve Blubrry customers' experiences." 
Even without the benefit of regular in-person meetings, Blubrry has managed to build a cohesive and effective team by relying on technology and ingenuity. "We started the company using our cell phones, chat and email," says Angelo Mandato, CIO. "We were virtual from the beginning. It is amazing to see how much we have done without being in the same building or town for more than one or two days at a time."
That said, more in-person gatherings are definitely an objective moving forward. "Even though we have good communication virtually and everyone gets along great, getting together in person allowed the entire team to see the passion everyone has for what we do," says Mandato.
CEO Todd Cochrane agrees. "My goal is to bring the team together more often," he says. "As a collective we shared a lot of information and communicated things we need to improve on or change. It was a great day for the team and I look forward to it again so that we can improve what we do best in providing great tools and service to the podcasting world."