Podcast: Play in new window | Download (Duration: 54:44 — 75.3MB) | Embed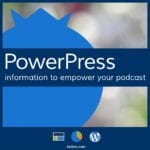 Katie Ward, the host of The Enthusiasm Enthusiast joins MacKenzie on the PowerPress Podcast. Blubrry is based in Columbus, Ohio and they discuss a well-known show that also comes from the area. As they discuss Katie's show, it becomes apparent how important particular topics are to some in the new year and you can learn more about those on her feminist, passion driven show. She was even nice enough to give her review of Blurry's Post to Social feature. They end the show chatting about different uses of podcasts, inspired from an article that described a woman making a podcast as her thesis for her Master's. Please subscribe to the show and thanks for listening! And as a big fan of all things spooky, MacKenzie wishes you a happy Friday the 13th.
Fan of PowerPress? Leave us a review!
The One You Feed
The Enthusiasm Enthusiast
She Source
Thesis as a podcast, not a paper

Email MacKenzie
Blubrry twitter