Podcast: Play in new window | Download (Duration: 56:35 — 77.8MB) | Embed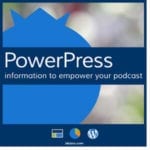 MacKenzie is happy to have Joe Pardo back on the PowerPress Podcast, this time to talk about his event, Podcast Mid-Atlantic. Before they discuss the event, MacKenzie and Joe have some pretty strong opinions on transcribing your podcast – did you know that Auphonic has put out a beta for this? Those of you that are interested in making transcribing or speech recognition services better, get involved with this private beta. September 9-10 in South Philly, podcasters will gather for a podcasting event meant for fostering creativity and community. Listen to get all the details about the event and why you should attend. Blubrry is happy to be sponsoring this event and hope that everyone involved has a great time. At Blubrry we're always happy to encourage growth in the community. Lastly, Tascam recently released two new soundboards, made specifically with podcasters in mind! It's not everyday that a podcast specific product is debuted, and from a largely known company such as Tascam. Thanks for listening and please subscribe to the show.
Fan of PowerPress? Please leave us a review, here!
Show notes:
Auphonic Speech Recognition Service – Private Beta
Use the promo code 'Mapcon25' for 10% off