As podcasters, it's important to know how audiences are listening. So here at Blubrry, we've crunched the data for you. Over 35,000 podcasts are represented in this breakdown, and whether those apps stream to a player for instant playback or download based on subscriptions to play on-demand.
60% of podcasts are downloaded for playback on-demand
Correction, we previously reported 80% which did not factor in that the iOS podcast app provides both stream play as well as save (download) play on-demand functionality.
No surprise here. This includes mobile and desktop podcast applications as well as desktop browser downloads. This reflects trending data about subscription consumption, demonstrating that loyal listeners use podcast applications to subscribe and listen to podcasts.
Here are the 4 main distribution categories of podcast consumption.
1. Mobile apps (play on demand) account for 71.6% of podcast "downloads"
Mobile podcast applications represent the bulk of podcast consumption today. Podcast apps are designed to run in the background both for playback and for subscription management where episodes are automatically downloaded for playback at the listener's convenience.
Blubrry's Podcast Statistics measure over 30 mobile applications including the official "Podcast" iOS app from Apple, Stitcher for Android and iOS, Pocket Casts for iOS and Android, Overcast, Downcast, Other iOS Apps, AntennaPod, Player FM, BeyondPod, Android Podcast Apps, as well as apps for Windows mobile, Blackberry and other niche mobile hardware.
Note, the Stitcher app sends a "ping" for measurement when content is played. Blubrry Podcast Statistics count each ping as a download. Stitcher, like all mobile podcast applications, will download or "update" subscribed podcasts with the latest episodes when the device is connected via WiFi.
Note, the iOS podcast app by Apple accounts for 39% of the mobile app downloads as well as streamed plays. The iOS podcast app by default subscribes listeners for stream plays and allows users to save on demand (download) as well as download new episodes automatically. We estimate that 1/2 of the consumption is downloaded and the remaining half stream played on demand.
2. Desktop apps (play on demand) account for 13.1% of podcast "downloads"
Desktop podcast applications account for an ever-shrinking slice of the podcast consumption pie. Similar to mobile podcast apps, desktop applications are designed to run in the background to download podcast subscriptions for synchronization to mobile devices such as iPhones and iPods.
Blubrry's Podcast Statistics measure over 30 desktop applications including Apple's iTunes, Juice (iPodder), Zune desktop, gPodder, and Sony MediaGo. Today, iTunes desktop application alone makes up 80% of the desktop app consumption.
3. Desktop browsers (in-page stream plays and play on demand) account for 10.7% of podcast "streamed plays" and  "downloads"
Desktop web browsers account for a solid 10% of podcast consumption. This percentage has remained within 5-15% since we started measuring podcast consumption in 2005. Desktop web browsers provide a way to play the audio directly from within the webpage. For podcasts where we measure plays within the browsers separate from downloads, approximately 2/3 of the consumption is played instantly. The remaining 1/3 accounts for listeners who download the podcast.
Blubrry's Podcast Statistics measure over 15 desktop web browsers including Chrome, Firefox, and Internet Explorer.
4. Mobile browsers and TV apps (in-page stream plays) account for 4.6% of podcast "streamed plays"
Mobile web browsers account for nearly 5% of podcast consumption. This percentage saw modest grown from 2008-2012, though in recent years it has plateaued. Mobile web browsers provide a way to play the audio to be played from within the webpage. On older phones that do not provide native browser play functionality, the media URL is automatically opened with the built-in default media player app. Playback from within either the browser or with the default media player results in a streamed play.
Blubrry's Podcast Statistics measure over 25 mobile browsers and TV applications. Mobile browsers include Chrome on Android, Windows Mobile, and Safari on iOS devices. TV applications include AppleTV, Roku, Samsung SmartTV and AndroidTV.
Android based web browsers do allow listeners to download podcasts rather than play them instantly, but the option is rarely used on such mobile devices. thus is not included in this report.
Podcast applications account for 85% of podcast consumption
No secret here, podcasts that are consumed from desktop and mobile podcast applications make up the majority of the podcast consumption. Podcast applications by nature provide an easy way for listeners to subscribe to a podcast to listen to their favorite podcasts at their leisure. This is what podcasting is all about!
Interesting Facts about Podcast Consumption
Most consumption occurs within the first 72 hours of release.
Podcast applications account for the majority (84.7%) of consumption. Such downloads occur within the minutes of an episode release and account for the bulk of all consumption within the first 24 hours. Podcast downloads occur in the background similar to how a DVR records TV for on-demand playback at the convenience of the viewer.
Podcast applications can provide "streamed plays" identical to in-page steam plays found in web browsers. Such cases typically occur for podcasts that are not subscribed to but are either bookmarked/starred or were recently discovered by the listener.
Based on trending information and factoring in episode release spikes within the first hours of release, we estimate 75% of podcast episodes consumed by desktop and mobile podcast applications are downloaded for on-demand playback (approximately 57%).
Podcast downloads from desktop web browsers account for 1/3 of desktop browser consumption (approximately 3.5%).
Stream play based applications such as web browsers and smart TV applications have a longer (24-72 hour) window of consumption. This implies that stream played consumption tends to take longer to be consumed, where-as subscribed to "downloaded" podcasts for on-demand playback spikes within the first hours an episode release.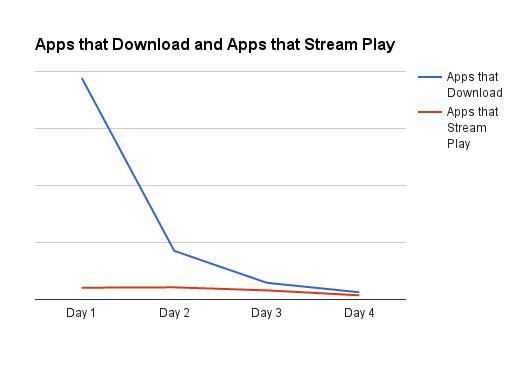 Measuring Streamed Plays vs Downloads
Measurement of a streamed play (sometimes referred to as a progressive download)  and a download for playback on demand is handled in the same way. When a player plays a media file from a URL (such as in a web based media player), the file is "progressively downloaded" from where it is hosted. A progressive download is a fancy term for downloading the file in the form of chunks using HTTP byte range requests. The chunks provide a way for the player to promptly allow for playback of the recording once the first chunks have been downloaded. In technical terms, these chunk downloads use byte range requests to download portions of the file at a time. It is common to see many requests for one file when this technique is used. Podcast downloads can also use byte range requests for reliability downloading on mobile networks, resuming a download, or for speeding up the downloading process. It is as common to see byte range requests for downloads from mobile podcasting applications. Since both a streamed play and a download appear the same way server side (either in 1 request or with multiple byte range requests), both consumption methods can be measured the same way.
We hope this information is useful for you as you decide how and where to reach your audience!