Family Renewal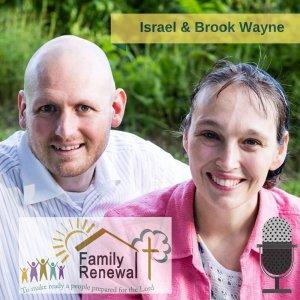 Latest Episodes

September 06, 2021
Kevin Swanson of Generations discusses education from a Biblical worldview. What is a Biblical philosophy of education and what does that look like in the various academic disciplines? - A homeschoole

August 23, 2021
Linda Hobar is the author of the popular curriculum, Mystery of History. In this interview, Israel and Linda discuss what it means to teach history from a Biblical worldview.

June 11, 2021
Legacy Homeschool Reflections – Ruth Adams - Ruth Adams is the author of the book "Legacy – Reflections of a Homeschooled, Homeschooling Mama" and is the host of the Legacy Homeschool Reflections Podc

June 03, 2021
Matt Adams, author of the book, "Ordinary Homeschool Dad - Practical Help for the Everyday Working Father," joins Israel Wayne on the Family Renewal Podcast. - Matt discusses how he changed from being

April 19, 2021
Learn more about what it is like to homeschool in Russia through this fascinating interview.

April 07, 2021
Hal & Melanie Young discuss parenting tweeners with Israel Wayne. How can parents navigate the turbulent waters of hormones, screen-time, social media and conflict?

June 15, 2020
Radio show host, Wil Addison, and Israel Wayne discuss race, racism and Christians. What is a Biblical perspective on issues of prejudice, bigotry and racial justice.

June 13, 2020
In 2020, there are threats to homeschooling freedoms on the horizon. Michael Donnelly (HSLDA), talks about the postponed anti-homeschooling summit at Harvard University and other concerns on the horizon related to home education

May 25, 2020
In this episode, Israel Wayne interviews Yvette Hampton of Schoolhouse Rocked, a new documentary focused on education. Garritt & Yvette Hampton are homeschooling parents and filmmakers who have a desire to help parents find the best path for educating ...

May 25, 2020
Kate Hannon is the author of the popular Jr. High Math curriculum, "Principles of Mathematics (Vol. 1 & 2). In this episode, Kate talks with Israel Wayne about why all subjects, including math, needs to be taught from a distinctively Biblical worldview...