Family Renewal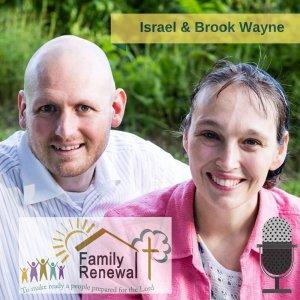 Latest Episodes

November 01, 2021
Becoming a Published Author – Tim Dudley (Master Books / New Leaf Press) - Tim Dudley is a Christian publishing veteran. Growing up in a publishing family, Tim became the President of New Leaf Publish

October 18, 2021
Anyone Can Homeschool – Nicki Truesdell - Nicki Truesdell joins Israel Wayne to discuss the question, "Can everyone homeschool?" What about single parents? What about special needs situations? What ab

October 04, 2021
6 Discipline Mistakes Parents Make – Ginger Hubbard - Ginger Hubbard and Israel Wayne discuss "Six Discipline Mistakes Parents Make." Ginger tells a great story about how she became a published author

September 20, 2021
Getting It All Done - Sometimes life can seem overwhelming. Especially when you face a disruption in life; a move, chronic illness, a death in the family, etc., it can seem impossible to be productive

September 06, 2021
Kevin Swanson of Generations discusses education from a Biblical worldview. What is a Biblical philosophy of education and what does that look like in the various academic disciplines? - A homeschoole

August 23, 2021
Linda Hobar is the author of the popular curriculum, Mystery of History. In this interview, Israel and Linda discuss what it means to teach history from a Biblical worldview.

June 11, 2021
Legacy Homeschool Reflections – Ruth Adams - Ruth Adams is the author of the book "Legacy – Reflections of a Homeschooled, Homeschooling Mama" and is the host of the Legacy Homeschool Reflections Podc

June 03, 2021
Matt Adams, author of the book, "Ordinary Homeschool Dad - Practical Help for the Everyday Working Father," joins Israel Wayne on the Family Renewal Podcast. - Matt discusses how he changed from being

April 19, 2021
Learn more about what it is like to homeschool in Russia through this fascinating interview.

April 07, 2021
Hal & Melanie Young discuss parenting tweeners with Israel Wayne. How can parents navigate the turbulent waters of hormones, screen-time, social media and conflict?