Family Renewal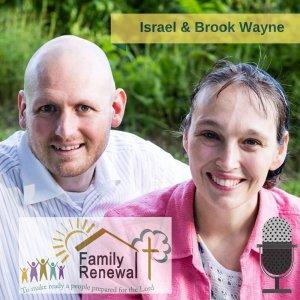 Walk It Out – Tricia Goyer
May 30, 2022
Walk it Out (Adoption Journey) – Tricia Goyer
In this podcast, we talk about Tricia's life as a Christian author and mom. Tricia shares her story from being a teen mom, to finding faith in Christ, to getting involved in a crisis pregnancy center, to her own adoption journey. Learn how to not merely profess your faith, but to actually "walk it out."
Tricia Goyer is author of more than 70 books, she writes both fiction and nonfiction related to family and parenting. This USA-Today Best-selling Author has also won a two Carol Awards and a Retailer's Best Award. She was also an ECPA Gold-Medallion Nominee and a Christy Award Nominee and won Writer of the Year from the Mt. Hermon Christian Writers Conference.
A beloved author of Amish fiction, as well, having written the Big Sky and Seven Brides for Seven Bachelors series. She has spoken at events such as MomCon, Raising Generations, and Teach Them Diligently conferences and is host of the podcast, Walk It Out.
A homeschooling mom of ten, including seven by adoption, Tricia is also a grandmother of four and wife to John. With a busy life she understands the importance of making every word count.
You can read more about adoption story HERE.
Learn more about Tricia's books at www.TriciaGoyer.com Facebook: https://www.facebook.com/authortriciagoyer

Instagram: https://www.instagram.com/triciagoyer

Pinterest: https://www.pinterest.com/triciagoyer

Feedburner: http://feeds.feedburner.com/triciagoyer

Twitter: https://twitter.com/triciagoyer

YouTube: https://www.youtube.com/user/triciagoyer

———————————————————————————————————-
To Learn more about Family Renewal, LLC visit www.FamilyRenewal.org
Other Links of Interest
Israel & Brook's blog

Israel's blog

Family Renewal Facebook Page

Israel Wayne's Facebook Author Page

Israel Wayne on Twitter

Israel Wayne on Instagram

Israel Wayne on MeWe

Israel Wayne on LinkedIn

Family Renewal YouTube Podcast
Israel Wayne's Books:
Questions God Asks: Unlocking the Wisdom of Eternity
Questions Jesus Asks: Where Divinity Meets Humanity
Pitchin' A Fit! Overcoming Angry & Stressed-Out Parenting
Education: Does God Have an Opinion? – A Biblical Apologetic for Christian Education & Homeschooling
Answers for Homeschooling: Top 25 Questions Critics Ask
Raising Them Up – Parenting for Christians
The post Walk It Out – Tricia Goyer appeared first on Ultimate Homeschool Podcast Network.
Click the icon below to listen.






---
Download Episode