Family Renewal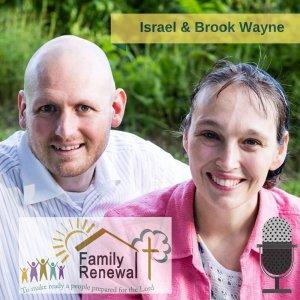 Anyone Can Homeschool – Nicki Truesdell
October 18, 2021
Anyone Can Homeschool – Nicki Truesdell
Nicki Truesdell joins Israel Wayne to discuss the question, "Can everyone homeschool?" What about single parents? What about special needs situations? What about the parent who doesn't feel qualified? What about the parent who doesn't think they are patient enough? What about all the things some parents feel their children will miss out on in homeschooling (sports, band, socialization, etc.). Drawing from her own experience as a homeschooled graduate and as a veteran homeschooling parent, Nicki gives straight-forward answers to the homeschool skeptic and gives evidence that literally ANYONE can homeschool…if they truly want to (and are legally allowed to do so).
Website: https://nickitruesdell.com
YouTube: https://www.pinterest.com/NickiTruesdell/
Instagram: https://www.instagram.com/nickitruesdell/
Facebook: https://www.facebook.com/nickitruesdellblog
———————————————————————————————————-
To Learn more about Family Renewal, LLC visit www.FamilyRenewal.org
Other Links of Interest
Israel & Brook's blog

Israel's blog

Family Renewal Facebook Page

Israel Wayne's Facebook Author Page

Israel Wayne on Twitter

Israel Wayne on Instagram

Israel Wayne on MeWe

Israel Wayne on LinkedIn

Family Renewal YouTube Podcast
Israel Wayne's Books:
Questions God Asks: Unlocking the Wisdom of Eternity
Questions Jesus Asks: Where Divinity Meets Humanity
Pitchin' A Fit! Overcoming Angry & Stressed-Out Parenting
Education: Does God Have an Opinion? – A Biblical Apologetic for Christian Education & Homeschooling
Answers for Homeschooling: Top 25 Questions Critics Ask
Raising Them Up – Parenting for Christians
The post Anyone Can Homeschool – Nicki Truesdell appeared first on Ultimate Homeschool Podcast Network.
Click the icon below to listen.






---
Download Episode