Family Renewal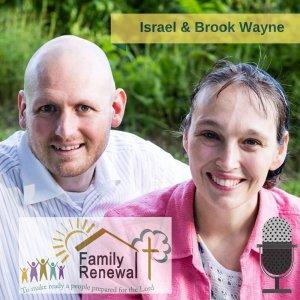 Linda Hobar – Mystery of History
August 23, 2021
Linda Hobar is the author of the popular curriculum, Mystery of History. In this interview, Israel and Linda discuss what it means to teach history from a Biblical worldview. How should we deal with difficulties in history, especially when some of the heroes have major flaws? When telling a story of the past, how do we decide what to leave out and what to include? These and other questions are explored in this eye-opening discussion.
The Mystery of History with Linda Hobar: https://themysteryofhistory.com/
Facebook: https://www.facebook.com/themysteryofhistory

Pinterest: https://www.pinterest.com/themysteryofhis

Twitter: https://twitter.com/LindaHobar

YouTube: https://www.youtube.com/channel/UCmmZhI-3TAns4VRyVOFcEdw

Linda' Blog: https://themysteryofhistory.com/blog/
FREE Audio Download!!!

The DARK SIDE of Socialism
An alarming number of U.S. millennials favor "socialism" as a means of government. What is socialism? What does history teach us about socialism? What is the threat of socialism to faith, families, and freedom? Join Linda Lacour Hobar, author of The Mystery of History, for a historical overview of socialism and why it matters now!  (Teens and 'tweens—don't miss this one!)
Link: https://themysteryofhistory.com/store/workshop-store/the-dark-side-of-socialism-workshop-mp3/
Free with coupon code: israel
Expires: Nov 30, 2021. Value $3.99
———————————————————————————————————-
To Learn more about Family Renewal, LLC visit www.FamilyRenewal.org
Other Links of Interest
Israel & Brook's blog

Israel's blog

Family Renewal Facebook Page

Israel Wayne's Facebook Author Page

Israel Wayne on Twitter

Israel Wayne on Instagram

Israel Wayne on MeWe

Israel Wayne on LinkedIn

Family Renewal YouTube Podcast
Israel Wayne's Books:
Questions God Asks: Unlocking the Wisdom of Eternity
Questions Jesus Asks: Where Divinity Meets Humanity
Pitchin' A Fit! Overcoming Angry & Stressed-Out Parenting
Education: Does God Have an Opinion? – A Biblical Apologetic for Christian Education & Homeschooling
Answers for Homeschooling: Top 25 Questions Critics Ask
Raising Them Up – Parenting for Christians
The post Linda Hobar – Mystery of History appeared first on Ultimate Homeschool Podcast Network.
Click the icon below to listen.






---
Download Episode