Family Renewal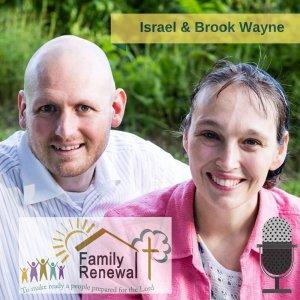 10 Minute Bible Journey – Dale Mason
May 02, 2022
10-Minute Bible Journey – Dale Mason (Answers in Genesis)
Dale Mason is the author of an excellent Bible study resource for families and people of all ages. The 10-Minute Bible Journey: The Big Picture of Scripture in 52 Quick Reads, is an excellent way to get an overview of the entire Bible in just 52 easy lessons that take only about 10 minutes a day.
https://familyrenewal.org/store/product/10-minute-bible-journey/
Learn more about Dale Mason here: https://answersingenesis.org/bios/dale-mason/
Dale Mason is a vice president at Answers in Genesis, and the founding publisher of AiG's award-winning Answers magazine, which is dedicated to building a creation-based Christian worldview. As a grandfather of more than 10 young boys and girls, he has a heartfelt passion to equip family leaders to know the Bible better, and be comfortable in training the next generation.
———————————————————————————————————-
To Learn more about Family Renewal, LLC visit www.FamilyRenewal.org
Other Links of Interest
Israel & Brook's blog

Israel's blog

Family Renewal Facebook Page

Israel Wayne's Facebook Author Page

Israel Wayne on Twitter

Israel Wayne on Instagram

Israel Wayne on MeWe

Israel Wayne on LinkedIn

Family Renewal YouTube Podcast
Israel Wayne's Books:
Questions God Asks: Unlocking the Wisdom of Eternity
Questions Jesus Asks: Where Divinity Meets Humanity
Pitchin' A Fit! Overcoming Angry & Stressed-Out Parenting
Education: Does God Have an Opinion? – A Biblical Apologetic for Christian Education & Homeschooling
Answers for Homeschooling: Top 25 Questions Critics Ask
Raising Them Up – Parenting for Christians
The post 10 Minute Bible Journey – Dale Mason appeared first on Ultimate Homeschool Podcast Network.
Click the icon below to listen.






---
Download Episode