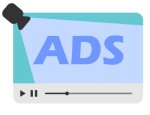 We're excited to announce a game-changing update from Blubrry Podcasting – a new feature that simplifies mid-roll ad insertion for our podcasters. The update enhances user experience and offers additional monetization opportunities for your podcast episodes.
Previously, managing mid-roll ads was a manual task, requiring podcasters to document mid-point timestamps in the comment field of the ID3 tag. For instance, to insert Midroll1 at 4 minutes and 26 seconds and 5 milliseconds and Midroll2 at 1 hour, 22 minutes 46 seconds and 3 milliseconds, the comment tag would be formatted as "mid1 00:04:26.5, mid2 01:22:46.3."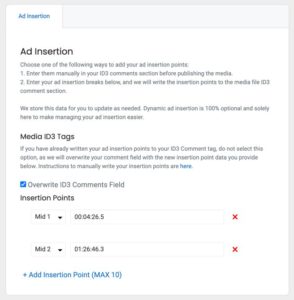 This process has been streamlined thanks to our new tool in the Blubrry Podcaster Dashboard. You can now manage your ad-insertion points before or after publishing in the episode ad-insertion management area. And for those using PowerPress, this tool can be accessed post-publishing in the same area.
Why is this important? This update was designed with two main goals. First, to simplify the process for our Dynamic Ad Insertion (DAI) users, making their experience smoother and more efficient, including updating the back catalog. Second, to empower our customers participating in programmatic advertising by giving them more opportunities to monetize their content.
The new mid-roll ad insertion tool allows you to mark spots in your episodes where ads can be placed, opening up more inventory for your shows. This means increased revenue potential from every episode you publish.
We strongly encourage all our programmatic customers to utilize this new tool to maximize their content monetization. However, it's important to note that you should only mark as many mid-points as you want to have filled, as all the ad spots may be filled.
Our new mid-roll ad insertion tool significantly enhances our platform's usability and improves podcast monetization. By simplifying this process, we hope to give our users more time to focus on what they do best – creating engaging content for their listeners.
Stay tuned for more exciting updates from Blubrry Podcasting, your partner in podcast monetization.