Podcast: Play in new window | Download (Duration: 38:46 — 53.3MB) | Embed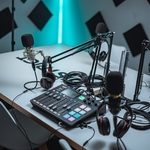 Filling in for Todd today, MacKenzie talks with Mike about some new podcast equipment being released in the near future. They also discuss some stats on how and what people are listening to that might make you think. Make sure to stick around for Mike's recap of Podfest this past weekend.
Thanks for joining us on this episode of Podcast Insider. Looking to be a guest on the show? Let us know. Emails are listed at the bottom of show notes.
News
Best Practice
Are you up to date on your software?
Double-check your software before recording. Does it need to be updated? Should you wait on the update because it has some weird glitch and they'll put out a small fix soon?
Blubrry News
Podfest/Vidfest Expo review – Mike and Todd were in attendance and both had sessions

We are looking to expand our development team – looking for a Junior Software Developer 
We'll be releasing programmatic advertising in the near future, stay tuned for more info.
Blubrry Pro Tip
Using your podcast to answer FAQ's 
Question of the Week: I'm trying to help a colleague connect a mixer (Mackie 1402VLZ4) to a new Macbook pro. Unfortunately, Apple has removed a mic input on more recent Macbooks. Any ideas for a good solution that won't introduce noise into the sound chain?
Answer: Yes. Get yourself a USB sound card or interface. Make sure it has a line-in jack (not just a mic jack) because the output of an analog mixer is going to be line-level. Line-level is way too high for the mic input.
Got a question you'd like us to answer on the show? Drop an email to mike@blubrry.com (audio, text, video) and we may use it.
The best place for support with any Blubrry products/services is our ticket system (https://blubrry.com/support/). Tickets give the whole team access rather than direct emails or calls.
______________
Coming to you this week from the Blubrry studio in Columbus, Ohio & Mike Dell's World Studio in Traverse City, Michigan.  Produced by the Blubrry Pro-Production team. 
NEW! Fill out our listener survey at surveys.blubrry.com/podcastinsider 
Schedule a one-on-one with Todd (hosting customers only). Email todd@blubrry.com

Schedule a tech checkup with Mike (hosting customers only). Email mike@blubrry.com

Send us your podcast sticker and a self-addressed stamped envelope (SASE) and we will send you a Blubrry care package.

Use the survey and let us know what else you want as we gear up for V2. 
Our mailing address is:
Blubrry – MacKenzie
150 E. Campus View Blvd. #180
Columbus, Ohio 43235