General – Live Your Best Life by Liz Brunner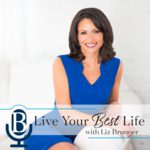 A television pro, among many other things, is also a diligent and professional podcaster now. A master of episode preparation, she prides herself on making sure the podcast is about the guest and not herself. We were even impressed with the speed that she got back to us when we asked if she'd like to be featured. We're lucky to have her as part of the Blubrry community and we hope you enjoy learning more about Liz and her podcasting journey so far.
Tell us about yourself!
I've been called an expert communications coach, a motivational speaker, podcast host and now a best-selling author of Dare to Own You: Taking Your Authenticity and Dreams into Your Next Chapter, and I answer to all of them. I was an award winning television journalist for 28-years before leaving the industry and launching my business, Brunner Communications in 2013. Since then, I've been blessed to criss-cross the country working with wonderful clients on everything from executive presence, leadership, presentation skills, public speaking, storytelling and media training as well. And when the pandemic hit, and many were forced to go "virtual," my television experience became invaluable in teaching people how to communicate, connect and engage their audience, whether they were clients or colleagues. I also launched my online learning platform, BrunnerAcademy.com in 2020, which offers people self-paced learning courses. 
What inspired you to do your own podcast?
I started my podcast because one of the favorite parts of my job as a TV journalist for nearly three decades was interviewing people. I love storytelling. And now, having my own show, I don't have anyone telling me how many minutes my story needs to be to fit into a newscast! The theme of my show was also important to me. My vision for my life is to teach, motivate and inspire people to live their best life, whatever that means for them. I've "recreated" my life many times and had a number of career next chapters—from High School Music teacher, to working in retail, to becoming an award-winning TV journalist, to now an entrepreneur with my communications company. The impetus for my book was a quote from my grandmother, "no knowledge is ever wasted," and I want listeners to know that too. My intention with my show is for people to hear stories of other people who have also transformed their lives in some way, or risen above challenges. They are all taking all of their experiences—good or bad—and using that knowledge to create their next chapter. If I did it, so can they, and when listeners hear my guests' stories, I believe they can be inspired to transform their life as well.
How do you prepare for an episode?
I do a lot of prep for my shows! Probably more than most, and the reason I feel I can say that is because of the number of times my guests have said to me how prepared I was, how much they appreciated it, and how that is often not their usual experience when being a guest on other people's shows. I think it goes back to my decades as a TV journalist and news anchor. I did A LOT of prep for my interviews. I carry the same principles forward with my podcast. I learn as much as I can about my guests, I read their books, if they have a new one, which means I usually read about one book a week right now. I will also sometimes do a pre-interview call with a guest, but not always. It depends on the guest, and how much I already know about them, but I don't like to ask too many questions in the pre-interview call. I want our conversation on the actual show to be as natural and unrehearsed as possible. And yes, the interview is always a conversation and it's important to remember that. I think it's also important that my questions not be too long winded. I want my guest to do more of the talking, not me. So, I don't take too much time to set up the question, but just enough to set the intention and then offer the guest the opportunity to add more to the story. The show is about them, not about me.
What advice do you have for someone just starting out?
This is a hard one for me to answer because I was initially resistant to starting my own podcast. Not because I wouldn't love it, but because of my TV background. I knew the expectation I would have of myself and the time commitment it would take. Not everyone will want to "prep," for example, as much as I do, but I think it's just in my DNA now! But I do think each person needs to assess for themselves 1) Why do they want to do a podcast? In other words, what is your intention behind the show? What do you want your audience to take away from the show while listening to it? 2) What kind of a time commitment are they willing to put into it? It's not just the recording of the show, it's finding the right guests, doing whatever prep you deem is right for you, promoting the show, getting it onto the right platforms, etc. There's a lot to it. 3) Who is going to help you or are you going to do it all yourself? How often do you want your show to be published? And finally, 4) What's going to be YOUR style? Listen to other shows and discover for yourself what style is authentically you. These are just some of the questions I think should be asked before launching a podcast. I'm so proud of the show my Digital Recording Producer, Dan Thibeault from Fast Twitch Media, and I publish almost weekly. Dan was the one who pushed me to seriously consider doing a show. My podcast is now heard in more than 140 countries and we're about to cross over 30K downloads. And to think I almost didn't do it! So glad I listened to Dan and did it.
Connect with Liz here…