Podcast: Play in new window | Download (Duration: 22:05 — 20.2MB) | Embed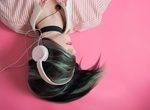 One of the first things that you do when getting your podcast off the ground is creating and/or designing your podcast artwork. It begs the question… do you want to be the face of your own podcast? As in, have your own face on your podcast artwork. It's incredibly popular, but there are no rules when it comes to podcast artwork design – which is shown in each and every podcast directory – that says you should or shouldn't include your latest glamorous headshot.
Toby from the Pro-Production team weighs in on this topic, but not before Todd and Mike get into some industry news, and announcements from Blubrry, including some unsung heroes in podcasting that you might be familiar with.
Thanks for joining us on this episode of Podcast Insider. Looking to be a guest on the show? Let us know.
News
Best Practice
Check your bandwidth when recording remote guests/hosts.
Oftentimes podcast interviews are recorded via Zoom or another software that takes up a significant amount of internet bandwidth; which depending on your internet connection, can take a toll on your recording. Check your connection every time before you hit record, and if possible, use a connected option as opposed to wifi.
Blubrry News
Blubrry Pro Tip
The face of your podcast… do you want your podcast artwork to feature your own face?
Question of the Week
Question: Why does album artwork need to be exactly square and small file size?
Answer: Short answer… because Apple wanted it that way. The better answer is that a square is the easiest shape to use in multiple places, i.e. apps and web pages. It is easier to scale to different sizes without worrying about aspect ratio. The small file size is so it loads fast and doesn't take up too much space on people's devices. Not as much of a problem now as it was 14 years ago, the device storage and speed are much much greater now.
Got a question you'd like us to answer on the show? Drop an email to mike@blubrry.com (audio, text, video) and we may use it.
The best place for support with any Blubrry products/services is our ticket system (https://blubrry.com/support/). Tickets give the whole team access rather than direct emails or calls.
______________
Coming to you this week from The New Media studios in Coldwater, Michigan & Mike Dell's World Studio in Traverse City, Michigan. Produced by the Blubrry Pro-Production team.
• Schedule a one-on-one with Todd (hosting customers only). Email todd@blubrry.com
• Schedule a tech checkup with Mike (hosting customers only). Email mike@blubrry.com
• Send us your podcast sticker and a self-addressed stamped envelope (SASE) and we will send you a Blubrry care package.
Our mailing address is:
Blubrry – MacKenzie
150 E. Campus View Blvd. #180
Columbus, Ohio 43235