Arts – Meet the Thriller Author: Interviews with Writers of Mystery, Thriller, and Suspense Books by Alan Petersen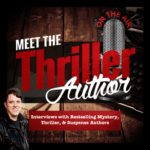 Some creators have been podcasting for close to 15 years, and that is the case with Alan Petersen. Hosting an interview show to chat with thriller authors, he's interviewed numerous authors and knows that at the end of the day a podcast should be fun.
Thank you Alan for joining us this month!
Tell us about yourself!
I was born in Costa Rica and grew up there and in Caracas, Venezuela. I moved to the United States to attend college in Minnesota, where I married my college sweetheart and worked as a business systems analyst and as a claims representative. In 2010, we left the cold Minnesota winters and moved to San Francisco, California, where I now live with my wife and our three small dogs on a San Francisco quintessential steep street. I write and publish thriller and mystery novels. 
What inspired you to do your own podcast?
I became enthralled with podcasting back in the early days, inspired by Adam Curry's podcast. I liked that anyone could start podcasting, so I started my first podcast in January 2007. It was called Costa Rica Talk Radio and it was about my home country. It only lasted a year or so, but it gave me the bug for podcasting. By 2015, I was writing and publishing thriller novels, so I started a new podcast focusing on interviewing other thriller and mystery authors. I've now interviewed over 180 authors and counting.
How do you prepare for an episode?
My podcast is interview based, so I do my research about my guests by visiting their website, checking out their books, and sites like Amazon and Goodreads to learn more about them. Then I come up with around 15-20 questions. I test my recording set-up about thirty minutes before the interview to make sure everything works correctly. Once I'm ready, I relax so I can have a friendly conversation versus overthinking it and coming off like a robot firing off questions.
What advice do you have for someone just starting out?
To just start. Don't get bogged down on the tech stuff, which can be overwhelming. Audio quality, editing, all that stuff you can learn and improve as you go along, but not without good content, so come up with a good premise, plan out your episode, record it, and upload it. And have fun and just be yourself. We're not splitting the atom here just having fun and hopefully entertaining and informing people.
Connect with Alan…