Podcast: Play in new window | Download (Duration: 52:17 — 71.8MB) | Embed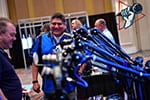 Choosing a podcast microphone typically involves some testing. With such a wide variety of options to choose from, we tested some for you live and give recommendations and a clear understanding of condenser vs dynamic microphones.
Wondery is still up for grabs, Joe Rogan is now Spotify exclusive and QCode just gained a former Apple Podcasts exec. That's not all, tune in to hear more.
Thank you to Elisa for sitting down with Todd to talk about her show In the Business of Change.
Thanks for joining us on this episode of Podcast Insider. Looking to be a guest on the show? Let us know.
Recorded live from two well-separated and socially distanced podcast studios in northern and southern Michigan; here's Podcast Insider.
News:
Apple Podcasts Connect will require 2-factor sign-in starting in February 2021.  In a note sent to podcasters…



"Starting February 2021, additional authentication will be required for all users to sign in to iTunes Connect. This extra layer of security for your Apple ID helps ensure that you're the only person who can access your account. If you haven't already updated your account, you can enable two-step verification or two-factor authentication now in the Security section of your Apple ID account or in the Apple ID section of Settings on your device."
Best Practice:
How to choose the right microphone for you. Three different microphones, three different price points.
Electro-Voice RE20 $450 (

Todd uses the Shure SM7B $400)

Sennheiser e835 $100




Audio-Technica

BPHS1 Headset Mic. $200



Dynamic is better for noise rejection

Examples:


Heil PR40, SM7B, RE20, SM58, ATR2100 and the new MV7


The condenser is more "full" sounding

Examples:


Snowball, Blue Yeti, Any built-in mic for Portable Recorders, Blue Mickey and the REALLY expensive

Neumann U 87 (

$3600!

)




Expensive vs. cheap


Is a $400 microphone $300 better than a $100 mic?

What is your budget?


Does YOUR voice sound good on the mic you choose?


Some voices do not sound good on some microphones.  For instance, often times women's voices do not sound as good on the Heil PR40 as they do on the Heil PR30 or the SM7B.  If you can borrow a mic to test with, test with as many as you can.


What is your podcast environment like?


Dynamic mics are better if you have background noise or for recording in the field.

If you are very sound-proofed room, or the coat closet, a condenser microphone could work for you.

Bottom line, if you find one that works for you, you can check it off your list of things to do.  Don't overthink it.
Blubrry News:
Interview:
Elisa Birnbaum – In the Business of Change
Connect with Elisa here…
Question(s) of the Week:
Question: What would you recommend to backup your files for your Podcast?
Answer: Here is what I [Mike] do, I have offline backup disks on two portable hard drives. One is set up on my Mac as a running backup (Time Machine).  The second one is in another building (my office/studio is separate from my house). That one gets brought to the studio once a month or so and I simply copy everything I want to back up into it, and it stays stored off-site. I also have an online backup service that does backups constantly. Four backups in total, not to mention, Blubrry (my podcast host) has all the finished files stored as well.
Local computer drive

External Time Machine drive

External hard drive off-site

In the cloud

If you have a question or feedback, click on the "Leave a voicemail" at  PodcastInsider.com. Record your question and we may answer it on the show.

_________________________
Promo code INSIDER for a free month at Blubrry.com
Coming at you this week from Blubrry Studios in northern and southern Michigan. Produced by the Blubrry Pro-Production team.
Schedule a one-on-one with Todd (hosting customers only). Email 

todd@blubrry.com

Schedule a tech checkup with Mike (hosting customers only). Email 

mike@blubrry.com

Send us your podcast sticker and a self-address stamped envelope (SASE) and we will send you a Blubrry care package.
Our mailing address is:
Blubrry – MacKenzie
150 E. Campus View Blvd. #180
Columbus, Ohio 43235