Podcast: Play in new window | Download (Duration: 43:31 — 59.8MB) | Embed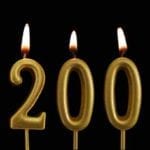 Welcome to a special celebration episode of Podcast Insider, our 200th episode. Mike and MacKenzie hosted and shared some memories and past episode clips from over the years.
Before they begin the reminiscing, they discuss a variety of podcast news articles – spending quite a bit of time on Spotify and Apple. Apple has released a new daily show, and Spotify has a new exclusive show with Michelle Obama.
Thanks for joining us this episode of Podcast Insider. Looking to be a guest on the show? Let us know.
Recorded live from two well-separated and socially distant podcast studios in northern Michigan and central Ohio; here's a Podcast Insider show LIVE.
News:
Replacing Best Practices:
History of this podcast … our this may be a bad practice
The podcast originally started  started as The PowerPress Podcast, with MacKenzie as host
Then on March 17, 2017 Todd and Mike decided to start Your Podcast. 
We combined them into this show, Podcast Insider, a year ago.
Episode 200 is the sum of all of the shows.

Blubrry News:
We have installed SpeakPipe on PodcastInsider.com so you can send in your questions, comments or other feedback to the show and we may use it in the show.  The button is under the subscribe links on the sidebar of Podcast Insider. Leave us messages!

Interview:
Support:
Changing Artwork: When you want to change artwork, simply upload the new artwork to your settings.  In PowerPress you have to put the link to the artwork in two places in the Podcast Artwork menu. Upload it once and copy and paste the URL to the other box. Make sure your artwork file name is NOT the same as the last version of the artwork. This could delay it getting to all the apps and directories.  There is no set time for them to update but most will update within 72 hours.

Along the same lines, changing the TITLE of your show. You simply change the "feed title" and it will get PULLED into the directories and apps the same as any other change to your RSS feed.

Email addresses: Make sure you have an email address you check (not a spam catcher email) in the RSS feed settings.
Promo code INSIDER for a free month at Blubrry.com
Coming at you this week from two very separate podcast studios in Michigan. Produced by the Blubrry Pro-Production team.
Schedule a one-on-one with Todd (hosting customers only) Email todd@blubrry.com
Schedule a tech checkup with Mike (hosting customers only) Email mike@blubrry.com
Send us your podcast sticker and a self-address stamped envelope (SASE) and we will send you a Blubrry care package.
Our mailing address is:
Blubrry – MacKenzie
150 E. Campus View Blvd. #180
Columbus, Ohio 43235