Podcast: Play in new window | Download (Duration: 30:12 — 41.5MB) | Embed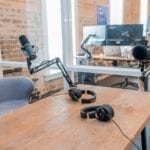 It's well-known that we encourage podcasters to use WordPress for their podcast – website as well as RSS feed. With any service there are dos and don'ts, pros and cons. This episode Todd and Mike discuss those and more when it comes to maximizing results using WordPress for your podcast.
The Nod, has been a hot topic recently as the hosts would like to gain ownership over their show but have been met with resistance from the company behind the show – of which they worked for. Blubrry has always been big promotors of owning your brand, IP, RSS feed, etc – while not always easy and possible – it prompted a great discussion with this episode.
Those of you in the U.S, enjoy your socially distant 4th of July!
Thanks for joining us this episode of Podcast Insider. Looking to be a guest on the show? Let us know.
Recorded live from two well-separated and socially distant podcast studios in northern and southern Michigan, here's a Podcast Insider show LIVE.
This week on Podcast Insider…
News:
Best Practices:
Make sure your audience can contact you from your website
Email address and/or contact form.

Social media links to your profiles.

Voicemail line or Speakpipe link.

If you have guests, make sure you include a section in the show notes for their contact information.

Blubrry News:
Todd (and Rob G.) had Adam Curry (The Podfather) as a guest on the New Media Show yesterday.

We are out tomorrow for the 4th of July (observed on the 3rd). Please keep in mind our staff will be largely unavailable.

Podcast Awards nominations are open!
Support:
If you are using WordPress it's important to keep everything (plugins, themes, and WordPress itself) up-to-date. Hackers look at any updates and then figure out what is hackable in the old version; then they target sites using that old version.

On the same topic, if you are not using a plugin, delete it. There is no need to have extra code on your website.

Be careful when you hire someone to design your website. It might not feel as intimidating or essential as hiring an employee but you are relying on them to help you move forward with your entire brand. Make sure they are knowledgeable about podcasting and how that integrates to your website; remember many podcast RSS feeds come from their website.

The main thing is to keep your WordPress site as clean and uncluttered (on the back end, but it's not a bad idea for the front end as well) as you can. The less plugins you have, typically, the better it will run.
Promo code INSIDER for a free month at Blubrry.com
Coming at you this week from two very separate podcast studios in Michigan. Produced by the Blubrry Pro-Production team.
Schedule a one-on-one with Todd (hosting customers only) Email todd@blubrry.com
Schedule a tech checkup with Mike (hosting customers only) Email mike@blubrry.com
Send us your podcast sticker and a self-address stamped envelope (SASE) and we will send you a Blubrry care package.
Our mailing address is:
Blubrry – MacKenzie
150 E. Campus View Blvd. #180
Columbus, Ohio 43235