Podcast: Play in new window | Download (6.5MB) | Embed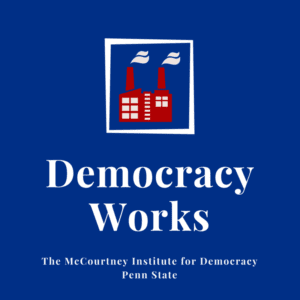 After a long hiatus, the PowerPress Podcast is back. For the most part school is out for the summer, but we're here to talk about a podcast that works at Penn State University. Before they get to that, MacKenzie and this episodes co-host discuss subscribers. There is quite a bit of misunderstanding of how subscribers are calculated for podcasting, and this will give a better explanation and insight into these numbers – or lack there of.
Jenna Spinelle, co-host of Democracy Works for the McCourtney Institute for Democracy at Penn State University, shared her experience getting a show off the ground rather quickly and expectations she has for podcasting in 2019. She has written two articles for Medium on the subject, they're linked below. She will also be on a panel at Podcast Movement this summer, don't miss it.
Lastly, they talk about a new partner for Blubrry, Audioburst. Free transcriptions and audio bursts of your podcast. They help you take your content to the next level with easy ways to share sound bites of your show and add a transcription to your website. Learn more with the link in the show notes.
Thanks for listening and please subscribe via your favorite podcast app. If you'd like to be a guest on the show reach out to MacKenzie. She's always looking for fun, new podcasters that use Blubrry services, specifically PowerPress.
Fan of PowerPress? Leave us a review here!
Show notes:
Beyond the Download – Subscriber Numbers
Five Questions to Ask Before Starting A Podcast At Your Organization
Why 2019 will be the year of the podcast in higher education — and what it means for the industry
Audioburst – Blubrry's new partner