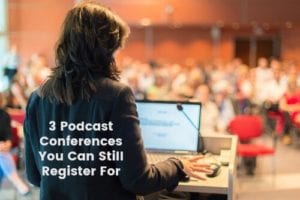 For many podcasters, Podcast Movement is the big event we look forward to all year. If you made it this year, you're probably feeling some letdown that it's all over. If you didn't, you are probably already looking forward to making your way to Orlando next year.
But while you can snag your
PM 2019 ticket now
, you don't have to wait a year to learn, network, and have fun with other podcasters! Here are some events to look forward to, coming up in just the next few months:
Tickets are still available
for this event, taking place in Philadelphia/NJ on September 7-8, 2018. Expect plenty of information-packed panels, inspiring keynotes, and opportunities to network with other podcasters from the mid-Atlantic region and beyond
Head to Chicago 
October 4-6, 2018 to experience this unique event, celebrating audio storytelling via a multitude of platforms. Programming includes two days of learning about the art & craft of audio storytelling, plenty of opportunities to connect with other podcasters and audio content creators, and an awards ceremony honoring the winners of the 2018 Third Coast / Richard H. Driehaus Foundation Competition.  
WYNC's annual gathering of women shaping the future of podcasting will take place November 13-14, 2018, in NYC. This two-day event offers workshops, networking opportunities, live tapings, one-on-one mentoring sessions, and your chance to pitch a show, incubate a pilot and possibly score a development deal with WNYC Studios!