In late March, Spotify announced its Sound Up Bootcamp, an innovative campaign aimed at introducing more women of color to podcasting. 10 women of color who aspired to be podcasters will attend a week-long intensive bootcamp, and at the end of the week, each participant will have the chance to pitch her podcast, with the winning podcast receiving a $10,000 award to develop her show.
Likely not even Spotify could have predicted the huge buzz the campaign would create, generating over 18,000 entries. One thing is certain, though – the immense success of this initiative proves that interest in podcasting among women of color is huge, and that networks, advertisers, and the entire podcasting industry need to be paying attention.
Today we're honored to highligh two women of color podcasters from the Blubrry/PowerPress community: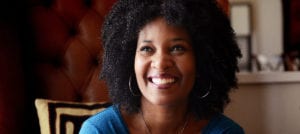 Karen Walrond, Make Light
While Karen is a relatively new podcaster, she's been a content creator for over 14 years as the voice behind 
chookooloonks.com.
Karen is also a photographer, author, and speaker, and podcasting felt like a natural extension of the content she was creating for other mediums.
"As a professional speaker, I love and am comfortable talking on a mic – so podcasting seemed like a natural outlet to talk about the things I talk about on the road and with my coaching clients," Karen explains.
Karen is excited to see that podcasting is becoming more diverse, and likens the evolution of podcasting to the growth and expansion of blogging ten+ years ago. "There is a lot of amazing content being created by women of color in all spaces – parenting, art, travel, there's so much of it." She admits, however, that connecting women of color content creators to a wider audience can still be a challenge. "Where I find there is a struggle is that despite the quality that's being created by these writers, bloggers, podcasters, and photographers there is still a pervasive perception that those artists are creating work that is created solely for other people of color. But all stories are important and we need to learn about them."
Make Light is dedicated to exploring how to live with intention and a sense of adventure, and is proof that beauty, positivity, creativity and kindness make the world go 'round. Season two will drop soon, so now is a great time to subscribe so you don't miss an episode.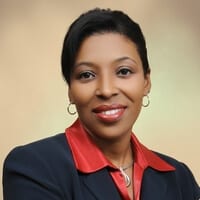 Pamela Alexander, BizLynks.TV
When Pamela and her husband Nash first started creating serialized video content aimed at helping the business community 6 years ago, at first they didn't realize exactly what they were doing. "Finally it clicked, that really, this is video podcasting," she explains. With over 10 shows total and 3 that are currently active, BizLynks.TV acts both as a network and a syndicator, distributing content via a variety of platforms including Apple Podcasts and Roku and helping businesses, nonprofits and associations to increase brand reach and engage clients while establishing their hosts as experts and thought leaders in their fields.
Pamela says she has seen an increased interest in podcasting among all demographics, including people of color. But, "we are still seeing the challenges in getting people to truly understand it. We approach so many people that we see and know they have great content, and are encouraging them to make that commitment to creating consistent, regular content and to understand that it's a great way to set yourself apart as an expert in your industry." BizLynks.TV helps close the knowledge gap by offering a platform to content creators that gives their content more reach via streamlined distribution.
With a catalog of active podcasts including the network's flagship show, That's My Biz, BizLynks.TV is a resource both for those who want to consume great video content, and those who create it.