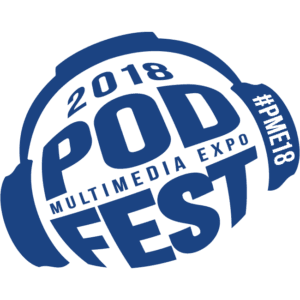 The 2018 Podfest Multimedia Expo will be held at the Orlando Wyndham Orlando Resort Hotel, February 8-10.
Blubrry team members Mike Dell, Customer Support Coordinator, and MacKenzie Bennett, Services and Affiliates Coordinator, will be representing at the Blubrry booth.
The Blubrry booth will be part of the Treasure Map hunt, offering attendees the chance to win prizes valued at $300 and up. To enter, go up to the Blubrry booth and say hello!
Even if you aren't a prize winner, everyone who visits the Blubrry booth can't help but win. Mike will be available to offer top-notch tech advice, while MacKenzie can answer questions about monetizing your podcast through an affiliate partnership.
Podfest Multimedia Expo bills itself as "the conference for podcasters, digital influencers, and changemakers who want to grow their brand and audience and maximize their income." With a focus on educating podcasters of all knowledge levels, the event is a great fit for any podcaster, beginner, or veteran.
The event kicks off unofficially on Wednesday, February 7, so early birds can meet new people, connect with old friends, and get checked in. The official schedule begins Thursday at 9 AM, with conference tracks on monetization, multimedia, technology, audience building, entrepreneur, and social media, as well as workshops like YouTube and Boss Lady. The event will end with a sure-to-be hilarious roast of School of Podcasting's Dave Jackson.
If you can't attend, follow along with the conference hashtag, #pme18. You're sure to learn a lot just by watching the conversation.
Will you be at PodFest this year? Let us know in the comments!