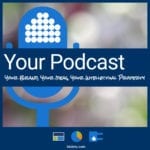 In this episode of Your Podcast Todd and Mike talk about Blubrry WordPress Website Deluxe – it's finally here, clarify and explain how MP3s are not actually dead. After a curious listener emailed them, they addressed some podcasting events and finished up the episode discussing MP3 encoding tops to save you storage space and bandwidth. Thanks for listening and please subscribe to the show!
News:
Blubrry WordPress Website Deluxe is available!
Topics:
Is the MP3 dead? No!
Using your WebHost server for your podcast hosting: Don't do it! We have been migrating several people's podcast files over to Blubrry due to their web host cracking down on the amount of storage used or the bandwidth used by the media. Oftentimes, when you read the fine print for most web hosting companies, they mention something along the lines of "Large media files are not included or supported in this hosting plan…"
Email from a Listener:
Hi Todd & Mike,

I'm enjoying the new podcast and appreciate hearing your take on various things in the podcast world.

You two mentioned recently attending the NAB show which made me wonder, as I'm getting close to launching my first podcast, what podcast conferences are out there that you would recommend as a good place to learn and connect with others in the podcasting space for someone totally new?

I'm also curious if you have any suggestions for finding other podcasters to possibly connect with locally? Does blubrry have any sort of location based directory?

I look forward to the next episode. Thanks!

Blessings,
Bekah
To answer Bekah, here is a list of some podcast events that we know of:
Tech:
MP3 Encoding
Make sure you are saving with a 44.1khz (or 44100hz) sample rate.
128kbps Stereo or 64kbps Mono Constant Bit Rate (CBR).
128kbps Stereo will give you 1MB per minute file size.
64kbps Mono will give you the same quality as 128 at half the size (½ MB per minute) which saves YOU on hosting and bandwidth and saves your listeners time and data on their cell plans.
AAC files are OK. MP3s are still the most compatible for now, but this could change in the future.
To ask questions or to comment on the show, contact Todd and Mike here: yourpodcast@blubrry.com