Podcast: Play in new window | Download (Duration: 45:34 — 62.7MB) | Embed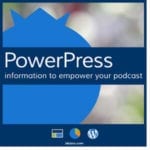 Meredith Adler, a podcaster from North Carolina was MacKenzie's guest for episode 45. This week they went with a different tactic – Meredith interviewing MacKenzie about Blubrry, PowerPress and podcasting. They briefly discuss a potential new podcasting event, Blubrry WordPress Website (Deluxe is finally out!), as well as Meredith's show that she started in the fall of 2016. Check out links below for more details and thanks for listening.
Fan of PowerPress? Leave us a review, here!
Show notes:
What is PodCon?
PodCon Indiegogo Campaign – Donate!
Blubrry Forum
PowerPress Webinar Video
Blubrry WordPress Website
Local Hearted – Meredith Adler show