Podcast: Play in new window | Download (Duration: 57:44 — 79.4MB) | Embed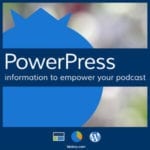 Happy New Year! Well, maybe a day early. MacKenzie, Todd, and Mike discuss significant changes and updates that happened in PowerPress in 2016. What features came out, changed, what was added to Blubrry, and their favorite projects to work on. A busy year ahead is coming, but MacKenzie is happy to see the year come to a close. PowerPress is going to look a much different come the next release. We're working on that and hope to make it a smooth transition for everyone, so if you'd like to beta test when the time comes, please let us know. To get the details on all of the changes we made this year, head over to WordPress. Stick around for a new episode release on Friday, Jan 13th. Thanks for listening!
Fan of PowerPress? Leave us a review, here!
Show notes:
PowerPress Changes
Podcast2Radio
Post to Social
Blubrry end of the year newsletter
Email MacKenzie
Email Todd