Your latest podcast episode is brilliant! Just like the ones before it. Now it's time to push it out to your fan base and prospective new audiences. Everyone shares their new podcast episode on their social media accounts, right? If not, well, they should. That's why we're proud to introduce Post to Social, which enables Blubrry hosting podcasters to easily share their episodes on Twitter, YouTube and Facebook (with more options in the works).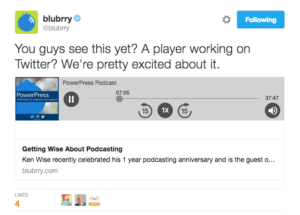 Post to Social for Twitter, YouTube and Facebook makes it easy to publish two-minute podcast clips of episodes or episode teasers to your social media accounts. By automatically publishing your episodes with P2S you're giving listeners a short sample of your episode with an outro that encourages listeners to check out the full episode.
The new feature provides you the capability to almost instantly post your entire show to Twitter because it enlists a Twitter audio card. And YouTube and Facebook will post the first two minutes of the episode: content creators can record an outro, driving listeners to the full episode on their own site.
Studies show that YouTube and Facebook users are more likely to listen to a short audio segment versus a full audio segment, which is why we've created the podcast teasers with your outro. Your outro can be something such as, "Head over to [your podcast location] to hear the rest of this episode, and be sure to subscribe while you're there." This is a great way to drive traffic to your website or whatever destination you want your listeners to visit.
Blubrry hosting users can use Post to Social now — instructions are posted on the Blubrry website. If you're not yet hosting with us, sign up here to get the added benefit of Post to Social for your podcast.