Podcast: Play in new window | Download (Duration: 37:48 — 52.0MB) | Embed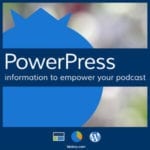 Ken Wise recently celebrated his 1 year podcasting anniversary and is the guest on episode 31 of the PowerPress Podcast. MacKenzie and Ken talk about his show, Wise About Texas, that focuses on all kinds of history that pertains to the great state of Texas. As for recent news, well, there's another podcasting studio available to the public. If you're in the St. Louis area and looking for an easy podcast recording solution, check this out. Check out the link below for more details. And for those of you out there that are interested in transcripts for your show, there's another tool coming your way! It's in beta now, but autoEdit will be available in the future. Those of you looking to test, be aware, it's open source. MacKenzie caught up on her podcast chronicle – check out the picture below of the new studio setup. Thanks for listening and hit one of the many subscribe buttons to the show!
PowerPress fan? Leave us a review, here!
Show notes:
Wise About Texas
Facebook
Twitter
Instagram
autoEdit – Open source tool for transcripts