Did you know that Blubrry directory includes 350,000 podcasts? Chances are your podcast has been included in this directory and you didn't even know. But even if your podcast is listed, there are good reasons to take an extra few steps to claim your podcast in the Blubrry directory.
Here are five:
More exposure. When you claim your podcast in our directory, we'll feature your show when potential listeners search or browse our categories.
Free resources. From a created-for-you audience survey to free basic statistics, you'll have access to tools that can make your podcast better and grow your audience.
Monetization opportunities. You may be invited to participate in paid advertising campaigns.
Increased brand awareness. Claimed show listings contain the following at a minimum: your show name, iTunes artwork, show summary, link to your website, RSS feed, iTunes link, host name, and location if embedded in your feed.
Advanced social tools. We just released a cool new feature: if you tweet an episode directly from Blubrry's directory, a customized image and audio card will show up in your tweet! Better yet, if the podcast is hosted with us, the tweet will include our new player embedded right in the tweet.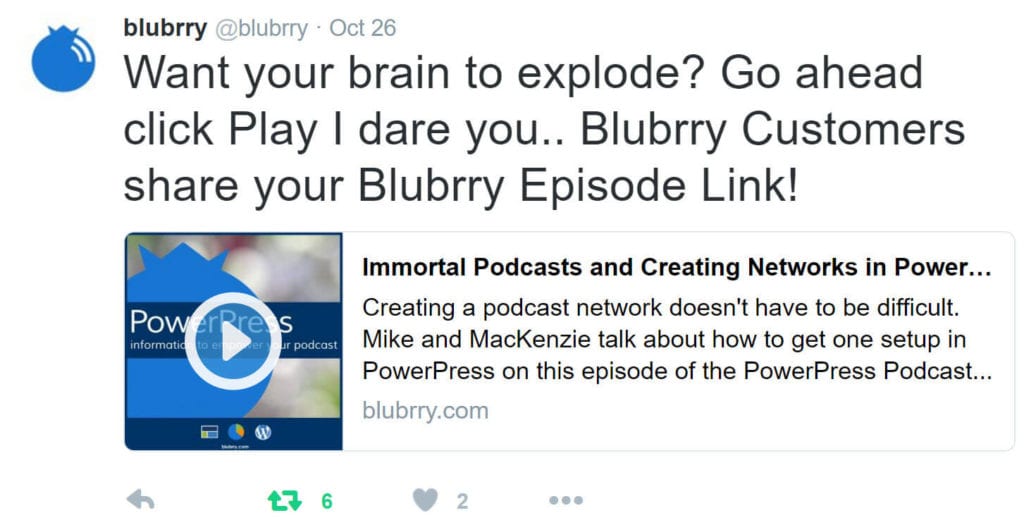 This is just the beginning: there are many more incredible social features and tools soon to come. So what are you waiting for? Here's how to claim your podcast in the Blubrry directory: 
Go to the Blubrry home page and search for your podcast in the upper left side of the window.
If you don't see your podcast listed, go back to the home page and enter it in the field under "Add" on the upper right.
If you do find your podcast, click it.
Underneath the cover art, you'll see the words "More info." Click that, and look below the description that pops up. If you see the words "Claim this podcast," it means your show is NOT claimed in the directory! Click the link and follow the directions, and you're on your way to claiming the great benefits listed above! Get started now.