Podcast: Play in new window | Download (Duration: 20:05 — 27.7MB) | Embed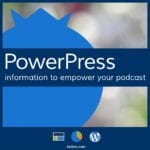 In all the podcast hype this week, MacKenzie did not have a guest on the show, instead she talked about some podcasting news. Google Play Music Podcasts, MTV, NAB and more were brought up on the 17th episode of the PowerPress Podcast this week. And in case you were wondering, she brought up her podcast chronicle this episode as well, so if you've been wondering how MacKenzie is doing, take a listen. Please, leave us a review on iTunes and subscribe on your device of choice!
Headed to Podcast Movement in July? Save $40 when you use the code Blubrry during checkout for your ticket. Ready for another event a month later? The Elite Man Conference is happening August 5-7 and we're got a code for you to save 10%. Learn more here and use code Blubrry10 to save!
Show notes:
Google Play Music Podcasts info
Save the Podcast Awards – Donate now!