Podcast: Play in new window | Download (Duration: 34:40 — 31.8MB) | Embed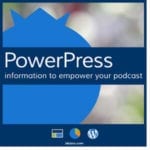 The PowerPress Podcast has been in action for a couple years, largely as a Blubrry community announcement show. So today we have a brand new show for you, a relaunch of the PowerPress Podcast hosted by MacKenzie of the Blubrry team. MacKenzie is joined by RawVoice CEO Todd Cochrane to talk about the new show.
In this format we will have a different co-host from the Blubrry team each episode where we cover new podcaster issues, tips and tricks and news: We will have our seasoned team provide insights for established podcasters in their areas of expertise.  Travel with MacKenzie as a newbie podcaster as well. Be sure to check us out in two weeks for episode 2 of this relaunch. Subscribe on iTunes and Android.
Show Links:
PowerPress Patreon Campaign
Note: We will only push Blubrry business / community announcements out via video on a separate podcast feed. We will not intermix the primary feed going forward.