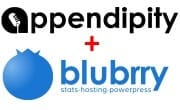 Blubrry is proudly partnering with Appendipity, a leading creator of WordPress themes for podcasters. The collaboration provides Blubrry.com's podcast media hosting and statistics clients standout themes that keep audio and video podcasts front and center in the marketplace. The professional, unique themes are optimized to work with Blubrry PowerPress, the leading plugin for WordPress, to leave a lasting impression on podcast audiences.
"At Appendipity we create, design and develop Premium WordPress themes specifically for podcasters," said Joey Kissimmee, founder. "All Appendipity themes are 100 percent compatible and integrated with PowerPress to make your podcasting efforts as easy and seamless as possible."
In addition to the initial collaboration, RawVoice will continue to work with Appendipity to inform them when plugin changes and upgrades will be implemented. This allows for effortless transitions for podcasters using both of the companies' services.
"We are delighted that Appendipity, a leading-edge creator of themes in the podcast space, is the first template creator to specifically work with us to ensure smooth integration between PowerPress and their podcast themes," said Todd Cochrane, RawVoice CEO. "We are pleased to recommend them."