We get this question at least once a month with new users. Look at the vertical menu system on the left within your wp-admin area, scroll down until you see the section titled "PowerPress". go ahead and click to expand to see all of the sub menu options of PowerPress.
Below is a screen shot of what this menu looks like.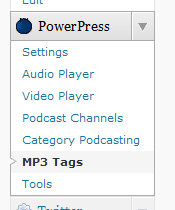 The "Podcast Channels" and "Category Podcasting" sections are advanced features that are turned off by default. If you want these options, go to the PowerPress "Settings" page, scroll to the bottom to the section titled "Advanced Options" and turn on the options you want.
MP3 Tags is a feature only available to paid Blubrry Hosting customers, as the tags are written to the media files as part of our service.
Our media hosting service integrates seamlessly in WordPress with our PowerPress plugin, plans start at $12/month. Learn more here: Blubrry Podcast Media Hosting.