The Bright Side with Kevin & Jason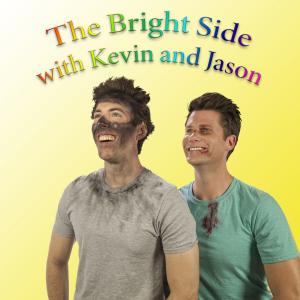 Latest Episodes

July 31, 2021
In honor of the Olympics, this week the guys tumble dishonorably into the exact opposite of them--namely, really stupid sports from around the globe. Warning: this episode may cause a case of the "Twi

July 24, 2021
Disneyland. The Happiest Place on Earth. Unless you're a rat who can't cook. This week, the guys go searching for the fabled Feral Cats of Disneyland, the storied rat-catchers that stalk the Magic Kin

July 16, 2021
Ah, it's a lovely day in Central Park in 1901. Take a stroll, ride the carousel, escape the heat in a shaded rocking chair. Now pay that gray-suited goon a nickel, or Mr. Spate will have you arrested

July 09, 2021
Rain blobs keep falling on my head, - And sadly, that means my eyes will soon be turning red, - And they'll start to bleed, - 'Cuz, these blobs are jellyfish or possibly aliens, - Or space jelly. - An

October 29, 2020
It's Halloween! The one day when it's perfectly acceptable to take candy from strangers! This year, Halloween will of course be a more sedate affair, since we can all agree that 2020 itself has been scarier than anything October alone can throw at us.

October 22, 2020
You've all been such great listeners, that today we are rewarding you with everyone's favorite activity--a pizza party! Come on a drive-along as the guys explore the frenzied, unsurprisingly sexy, and surprisingly dangerous world of pizza delivery.

October 15, 2020
Last week, the guys visited with some of the world's stupidest criminals; this week, they'll teach you how to become one! Of course, to be a stupid criminal, first you need a stupid law to break. That's why this week's episode is a deep dive into some ...

October 09, 2020
We all make mistakes, and we can all be a little stupid sometimes. But when both of those things are true at the same time, well that, friends, is when magic happens. This week the guys stumble through the escapades of some of the world's most idiotic ...

October 02, 2020
Weeeeeeeeeeeee're Back! 2020 has been a tough one for all of us, and with things going as crazy as they are, we just couldn't stand back and stand by. These boys are too proud for that. #ProudBoys. - And so we're back,