The Bright Side with Kevin & Jason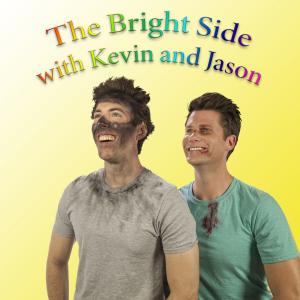 Latest Episodes

October 29, 2020
It's Halloween! The one day when it's perfectly acceptable to take candy from strangers! This year, Halloween will of course be a more sedate affair, since we can all agree that 2020 itself has been scarier than anything October alone can throw at us.

October 22, 2020
You've all been such great listeners, that today we are rewarding you with everyone's favorite activity--a pizza party! Come on a drive-along as the guys explore the frenzied, unsurprisingly sexy, and surprisingly dangerous world of pizza delivery.

October 15, 2020
Last week, the guys visited with some of the world's stupidest criminals; this week, they'll teach you how to become one! Of course, to be a stupid criminal, first you need a stupid law to break. That's why this week's episode is a deep dive into some ...

October 09, 2020
We all make mistakes, and we can all be a little stupid sometimes. But when both of those things are true at the same time, well that, friends, is when magic happens. This week the guys stumble through the escapades of some of the world's most idiotic ...

October 02, 2020
Weeeeeeeeeeeee're Back! 2020 has been a tough one for all of us, and with things going as crazy as they are, we just couldn't stand back and stand by. These boys are too proud for that. #ProudBoys. - And so we're back,

February 25, 2020
Ah, San Francisco! Home to picturesque city scenes, quaint cable cars, and down-and-dirty fucking in the streets. This week, the guys lube up and wade into the gritty world of Folsom Street Fair, a sex-positive, leather-positive,

February 18, 2020
Mary was an elephant - Back in a circus show. - And everywhere that Mary went, - Mayhem was sure to go. -   - It followed her to Tennessee, - The place she met her end. - And all because, unwitting, she - Pancaked her untrained friend.

February 12, 2020
If the news has you down, this episode is sure to cure what ails you!* - Ah, modern medicine. A pill for everything, marijuana on demand, and the sweet release of anesthetic oblivion for anything more invasive than a teeth cleaning.

February 04, 2020
We're baaaaa-aaaaaak! - And for our 69th episode, we thought it only fitting to dive headfirst into the seedy world of Vegas strip clubs, where sex is sold alongside the most ubiquitous legal drug: alcohol. - This week,