The Bright Side with Kevin & Jason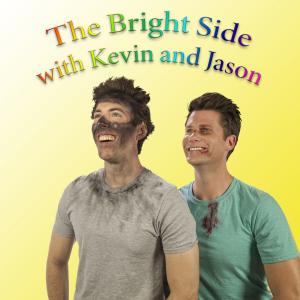 Latest Episodes

February 25, 2020
Ah, San Francisco! Home to picturesque city scenes, quaint cable cars, and down-and-dirty fucking in the streets. This week, the guys lube up and wade into the gritty world of Folsom Street Fair, a sex-positive, leather-positive,

February 18, 2020
Mary was an elephant - Back in a circus show. - And everywhere that Mary went, - Mayhem was sure to go. -   - It followed her to Tennessee, - The place she met her end. - And all because, unwitting, she - Pancaked her untrained friend.

February 12, 2020
If the news has you down, this episode is sure to cure what ails you!* - Ah, modern medicine. A pill for everything, marijuana on demand, and the sweet release of anesthetic oblivion for anything more invasive than a teeth cleaning.

February 04, 2020
We're baaaaa-aaaaaak! - And for our 69th episode, we thought it only fitting to dive headfirst into the seedy world of Vegas strip clubs, where sex is sold alongside the most ubiquitous legal drug: alcohol. - This week,

August 27, 2019
Nothing says Christmas quite as much as a drunken mob of Santas descending on local bars, flinging Brussels sprouts at each other, distributing inappropriate gifts to terrified children, hanging from traffic lights,

August 21, 2019
We've been holding this episode in for nearly a month, and we're about ready to burst! With anticipation, that is. This week on The Bright Side, the guys hold their breath and dive, nose first, into the wacky, malodorous world of professional farting!

July 25, 2019
The truth is out there, apparently, and this week, the guys journey to the beyond to find it. Along the way, they encounter the Fox Sisters, a trio of mid-nineteenth-Century women who turned an April Fools joke into a religion called Spiritualism.

July 16, 2019
So, if that title didn't freak you out, we want nothing to do with you. This week, the guys try to tame the Toronto Circus Riot of 1855, a rollicking moment of chaos in an otherwise very polite town, where corruption, sex,

July 06, 2019
Nothing says "America" like moving to a neighborhood because it's close to a national landmark, then being pissy at people who want to come into your neighborhood to view the same landmark. And nothing says "City of Angels" like the Hollywood Sign.

June 27, 2019
America's Civil War was a time of great strife, with brother pitted against brother, the nation ripped apart, and...a boat full of whores floating upriver? Yes, you read that correctly. Inspired by New York State's upcoming decriminalization of sex wor...