Podcast: Play in new window | Download (Duration: 14:25 — 19.8MB) | Embed
Explore ways to make your podcast more accessible to all listeners, including those with disabilities.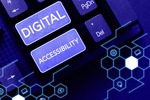 Podcasting is a powerful medium but it's essential to ensure that everyone can enjoy and benefit from your content. By focusing on accessibility and inclusivity, we not only open the doors to a wider audience but also enrich the podcasting ecosystem with a more vibrant, empathetic, and representative tapestry of stories and ideas.
Today we'll cover the aspects of accessibility from content creation to distribution and publication.
Understanding Accessibility
Creating podcasts for a larger audience
Common disabilities that may affect podcast listeners: hearing impairments, visual impairments, cognitive impairments
Creating Accessible Content
Use clear and concise language
Avoid jargon or complex terminology
Clear and consistent audio quality
Transcripts and Captions
Transcripts benefit those with hearing impairments but also all listeners
Tools and services for generating accurate and high quality transcripts
Value of adding captions to video podcast content for deaf and hard of hearing
Descriptive Audio and Alt Text
Considered essential to comprehension of the content
Can be added to your video podcast
Alt Text: An accurate description of the image – very detailed and explanatory
Both are helpful for accessibility and SEO
Podcast Player Accessibility
The Blubrry player allows for accessibility as well as many social media apps
Listeners with disabilities can benefit from these features.
Podcasters should be aware of accessibility in player design when creating their websites or apps.
Listener Feedback and Engagement
Actively engage with your audience to learn about their specific accessibility needs.
Highlight success stories of podcasters who improved their content based on listener feedback.
---
The best place for support with any Blubrry product or service is our ticket system. Tickets give the whole team access vs. direct emails or calls.
Fill out our listener survey at surveys.blubrry.com/podcastinsider.
Hosting customers can schedule a one-on-one call with Todd or a tech checkup with Mike.

todd@blubrry.com and mike@blubrry.com