Podcast: Play in new window | Download (Duration: 18:15 — 25.1MB) | Embed
Writing better show notes is easy if you follow these dos and don'ts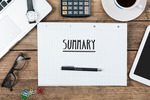 Mike and MacKenzie discuss the various dos and don'ts that comprise useful podcast show notes. Show notes add a plethora of information into your episode and, most importantly, allow search engines to easily pick up your episode topics. We highly encourage all podcasters to write thorough show notes to accompany their audio and/or video content.
Tell us what you think of today's show notes.
Today's Hosts: Mike Dell and MacKenzie Bennett
Show notes are a vital part of your podcasting strategy. They not only serve to inform listeners about the content of your episode, but they also improve discoverability on podcast directories, i.e SEO.
Here are some dos and don'ts for creating podcast show notes:
Dos:
Include a brief summary: Start with a 2-3 sentence summary that quickly tells listeners what the episode is about. Make it catchy and engaging.
Links to resources: If you mention a book, article, website, product, or any other resource, include the link in your show notes. This is valuable for your listeners and shows that you are a resourceful host.
Guest information: If you have guests on your podcast, provide their bio and links to their website or social media platforms. It's a good way to show appreciation to your guest and it provides your listeners with a way to connect with them.
Contact information: Make sure to include your podcast's website, your email, and social media handles, making it easy for listeners to get in touch or follow you for updates.
Call to action: Whether it's subscribing, leaving a review, signing up for your newsletter, or following you on social media, always include a call to action. This can help grow your audience and engage listeners.
Don'ts:
Don't write a transcript: Show notes are not supposed to be a word-for-word transcript of the podcast. Focus on key points, topics discussed, and resources mentioned.
Don't forget SEO: Optimize your show notes for search engines by using relevant keywords related to your episode. However, don't keyword stuff – it should read naturally.
Don't make them too long: While it's important to include key details, remember that show notes should be concise and easy to scan. Too much text can be overwhelming and most people won't read it.
Don't forget to proofread: Spelling and grammar mistakes can look unprofessional and can be confusing for your audience. Always proofread your show notes before publishing.
Don't ignore feedback: If your listeners give you feedback about your show notes, take it into consideration. They can provide valuable insights on how to improve them.
Remember, show notes can enhance the listening experience, increase audience engagement, and help drive traffic to your website or products, so it's worth investing time and effort into creating them well.
Additional information on how to get the best of your show notes can be found here.
---
The best place for support with any Blubrry product or service is our ticket system. Tickets give the whole team access vs. direct emails or calls.
Fill out our listener survey at surveys.blubrry.com/podcastinsider.
Hosting customers can schedule a one-on-one call with Todd or a tech checkup with Mike.

todd@blubrry.com and mike@blubrry.com