Podcast: Play in new window | Download (Duration: 19:48 — 27.2MB) | Embed
Are you considering hired help for your podcast?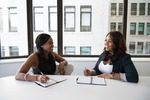 In today's episode we'll be discussing eight factors to consider when hiring a paid podcast consultant for your podcast. Often times the podcast host is a jack of all trades for their show, which while admirable can be improved with hired help. If you're looking to expand your podcast team, look no further to decide if that may be a good idea. First things first, what exactly do we mean when we say podcast consultant – read below for our explanation.
Podcast Consultant: A podcast pro that provides guidance and expertise related to podcasting. Encompassing but not limited to: technical, developmental, and creative know-how; can be across the board or more dedicated to a specific aspect or task such as equipment and setup or audience growth tactics.
Today's Hosts: Mike Dell and MacKenzie Bennett
When hiring a podcast consultant, you should consider the following factors:
Budget: Be upfront about what you are wanting to spend and make sure you can sustain that budget for the long run.
Experience: How much experience does the consultant have with podcasting? Have they worked on successful podcasts before? Their past experience can provide you with a sense of their skills and capabilities.
Knowledge of the Industry: The podcasting industry is constantly changing. A good consultant should be up-to-date with current trends, technologies, and strategies in podcasting. They should understand the podcasting market and the specific niche that your podcast falls into.
Technical Skills: Podcasting involves both content creation and technical setup. Your consultant should have knowledge about podcast recording, editing, equipment, software, and hosting platforms. They should also be familiar with podcast distribution and analytics.
Marketing and Promotion: It's not enough to just create a podcast, you need to get it heard. Your consultant should know how to effectively promote a podcast, including social media strategies, SEO for podcasts, and partnerships or sponsorships.
Good Communication Skills: The consultant should be able to communicate clearly and effectively. They should be able to understand your vision for the podcast and help you achieve it. Regular updates and feedback are essential for a successful working relationship.
References and Reviews: Check the consultant's references and reviews from previous clients. This can give you a sense of their reliability and effectiveness.
A Passion for Podcasting: Finally, a good podcast consultant should be passionate about podcasting. This passion will drive them to stay updated on industry changes, put in the extra effort to ensure the success of your podcast, and provide the energy needed to keep your project moving forward.
Just a tip…Make sure YOU keep all admin logins/passwords for your site, your hosting plan and make sure YOU are paying the hosting bills directly.
---
The best place for support with any Blubrry product or service is our ticket system. Tickets give the whole team access vs. direct emails or calls.
Fill out our listener survey at surveys.blubrry.com/podcastinsider.
Hosting customers can schedule a one-on-one call with Todd or a tech checkup with Mike.

todd@blubrry.com and mike@blubrry.com