Podcast: Play in new window | Download (Duration: 21:46 — 29.9MB) | Embed
Best practices for employees podcasting for their company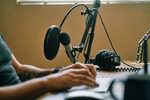 This week we're exploring the ways that employees of any organization can podcast. Join MacKenzie and Mike as they discuss the best practices for employees that are podcasting for their company, cause, etc. If you're thinking of starting a show in any professional capacity consider reading here to learn more facts about the current podcast environment.
Today's hosts: MacKenzie Bennett and Mike Dell
Define Your Show Topic
Decide on a specific topic, what niche your podcast is going to fill
Remember the more specific the more likely you'll have loyal, dedicated followers
Set Your Goal
What is the overall goal of the podcast? Very related to your show topic, but they are different factors.
Generally to inform, but more specifically is it to teach your listeners, persuade them to buy your product, train them on a subject?
Recording and Editing
Overcoming the nervousness of recording and hearing yourself
A team member or outside source for editing and/or producing might be necessary
Artwork – don't skimp on branding, what the audience can see and engage with
Promoting and Releasing
Let people know a podcast is coming! Don't wait until you've done the work and published an episode for people to find it.
Depending on your company's schedule, recording ahead of time might be easier.
Regularly Releasing
Establish a solid recording setup – at home or the office
Factor in PTO, unexpected absences, etc.
For example, our editing team is taking some time off this summer, which means we recorded sooner than normal.
Podcasting offers immense potential for professionals interested in expanding their careers and skillsets. Tapping into the power of audio content opens doors to new opportunities and growth. Tell us how you have factored in podcasting to your job.
---
The best place for support with any Blubrry product or service is our ticket system. Tickets give the whole team access vs. direct emails or calls.
Fill out our listener survey at surveys.blubrry.com/podcastinsider.
Hosting customers can schedule a one-on-one call with Todd or a tech checkup with Mike.

todd@blubrry.com and mike@blubrry.com