Podcast: Play in new window | Download (Duration: 16:52 — ) | Embed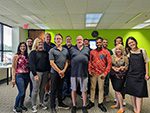 This will be a quick episode, the entire Blubrry team (minus two team members) have gathered in Columbus for the first time in a few years. Todd, Mike, Cathy and MacKenzie tease a bit more on Blubrry's new programmatic advertising, which will be released soon, as well as a few other integrations that will be released before Podcast Movement in the upcoming weeks. Thanks for joining us for a short episode . . . a day late.
No live show this week.
Thanks for listening, if you'd like to be a guest on Podcast Insider, let the team know.
Coming Soon
Programmatic Advertising
A new feature, another integration
Podcast Movement — Todd, Mike, MacKenzie and Chau will be in attendance